In the last few decades, post-apocalyptic and dystopian media has taken screens by storm with both television series like The Walking Dead and films like World War Z and the Divergent series. Fans of the genre have plenty to choose from, and those looking specifically for television series have some seriously brilliant options.
From recent highlights of dramatic horror like The Last of Us, and somewhat older sci-fi series like Fringe, there are many dystopian TV shows to satisfy viewers. Even more than that, there are some shows that just might go down in history as classics within the genre due to their popularity, critical-acclaim, or loyal fan bases.
Updated on July 27, 2023, by Ryan Heffernan:
From post-apocalyptic dramas tracking the downfall of humanity to stunning sci-fi spectacles set thousands of years in the future, the bleak allure of dystopian television continues to enthrall viewers. 2023 has already seen a number of hit shows set in such realities, with the acclaimed second season of Foundation currently airing weekly on Apple TV+.
14
'Foundation' (2021 – )
Based on the Foundation novel series from esteemed science-fiction writer Isaac Asimov, Apple TV+'s hit series has already won over critics and fans alike with its sheer magnitude and its unparalleled visual effects. Set 10,000 years in the future, it transpires over the course of centuries as people living on planets throughout the universe try to preserve their livelihoods while living under the Galactic Empire.
RELATED: The Best Sci-Fi TV Shows of the 2000s, According to IMDb
While season one did attract some criticism for its complexity, its heavy exposition has set a sturdy platform that the show can launch from to become a sci-fi sensation. The second season is earning fantastic reviews and production has already begun on the show's third season.
Watch on Apple TV+
13
'Colony' (2016 – 2018)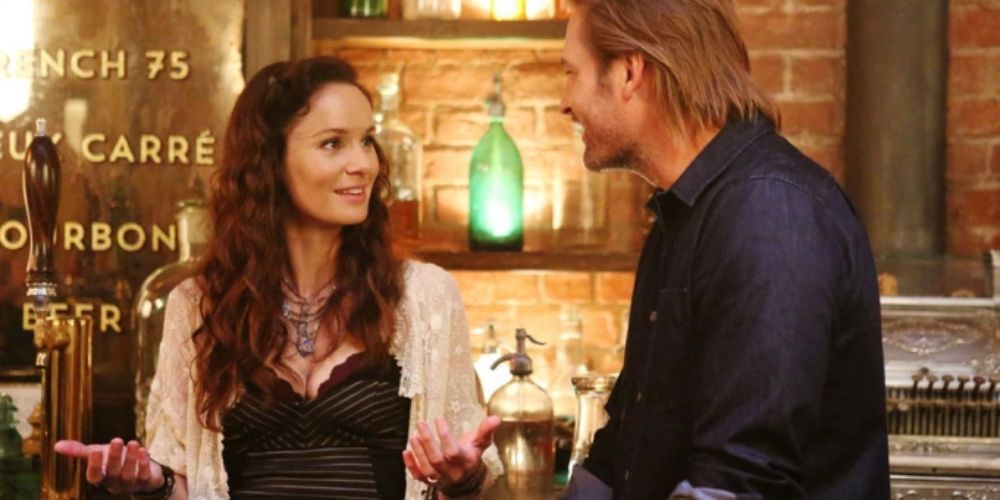 When aliens occupy Los Angeles, the Bowman family becomes separated and must tread carefully around the invaders if they hope to keep their family together. Katie (Sarah Wayne Callies) and her husband Will (Josh Holloway) are forced to make complicated decisions in order to rescue their son Bram (Alex Neustaedter), and will disagree about many things along the way. Their main goal, however, is a family reunion and safety from the cunning alien invaders.
One of the best series about an alien occupation, Colony depicts a unique take on the concept and does it well. For those looking for a science fiction dystopian series filled with action and adventure that will also tug on the heartstrings, this series is the perfect choice. As one of the few good alien invasion series, it's likely that it will one day be considered a classic piece of post-apocalyptic media.
Watch on Roku
12
'All of Us Are Dead' (2022 – )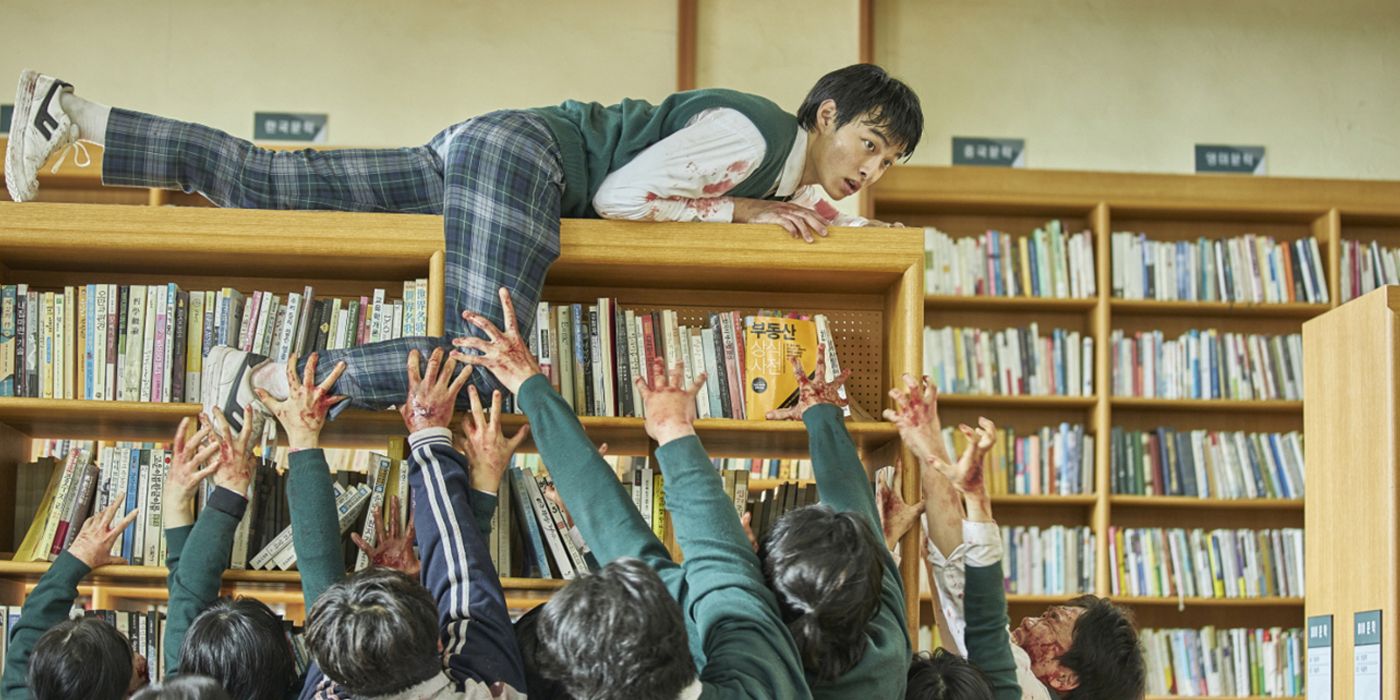 Taking place in South Korea, a failed science experiment begins turning high school students into highly-dangerous zombies in All of Us Are Dead. After the government cuts off their communication upon learning of the zombies, the students become trapped in the school with no food or water and must battle the ever-increasing hoard of zombies to survive.
RELATED: Zombies in TV & Movies Ranked by How Likely You Are to Survive Them
With the first season so popular, the series has already been renewed for season two. Fans of zombie-apocalypse shows will be able to enjoy another adrenaline-pumping series before they know it, and the positive reception the show has received makes it a top contender for becoming a classic, if it can continue to deliver in its upcoming seasons.
Watch on Netflix
11
'Humans' (2017 – 2019)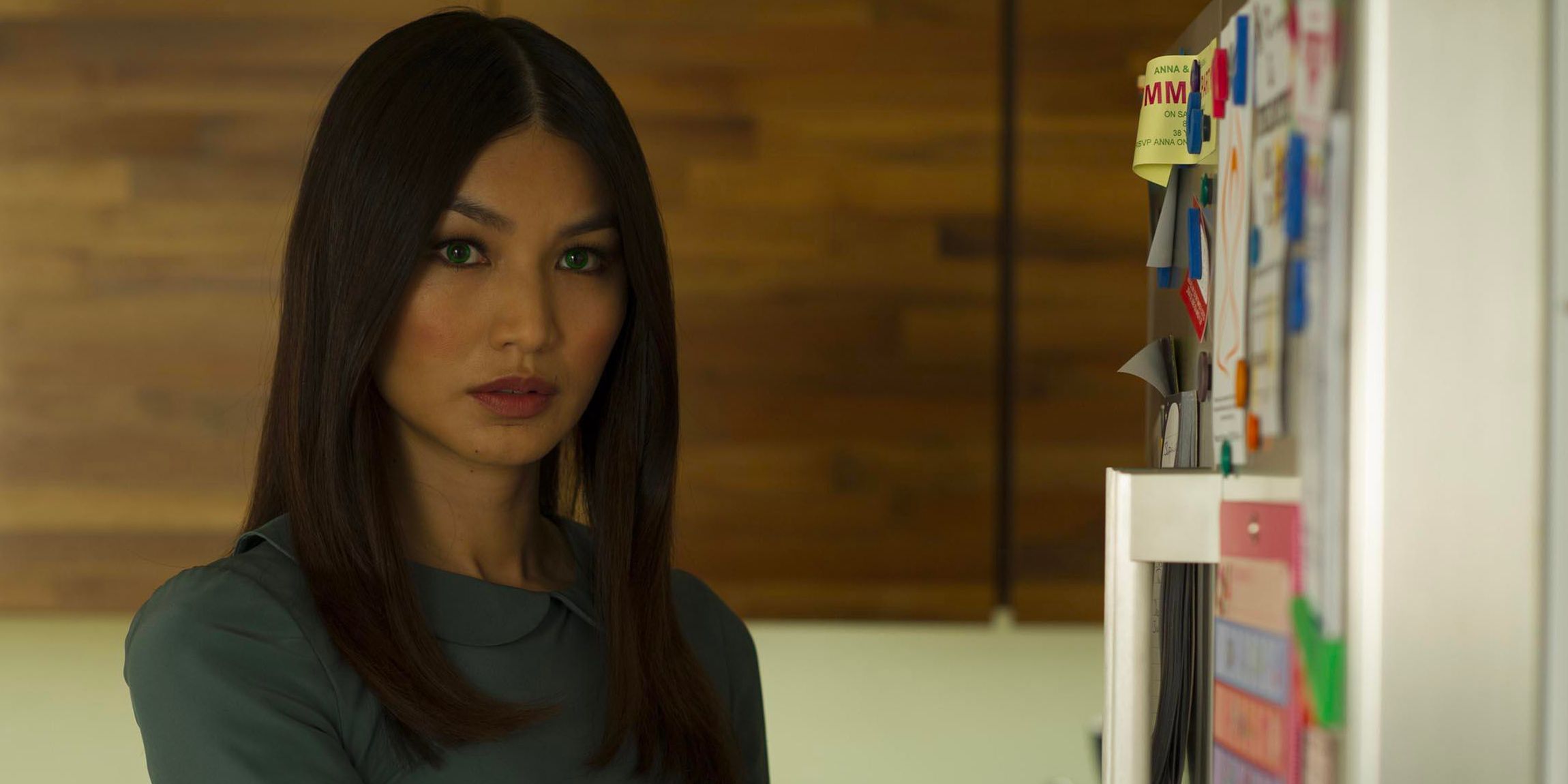 Rich with science-fiction themes while investing much of its story in socio-political allegory and timely themes surrounding A.I., Humans was critically acclaimed throughout its three-season run before being abruptly canceled. It focuses on a near future where robotic household assistants called "synths" are being implemented into society and the cultural and psychological fallout that entails.
Within its premise, the show finds a disconcerting eeriness that creates an atmospheric tension while never condemning the robotic characters for their ambitions and goals. The end result is a scintillating British sci-fi drama that has the same sort of bleak outlook on the world as series like Black Mirror.
10
'The Walking Dead' (2010 – 2022)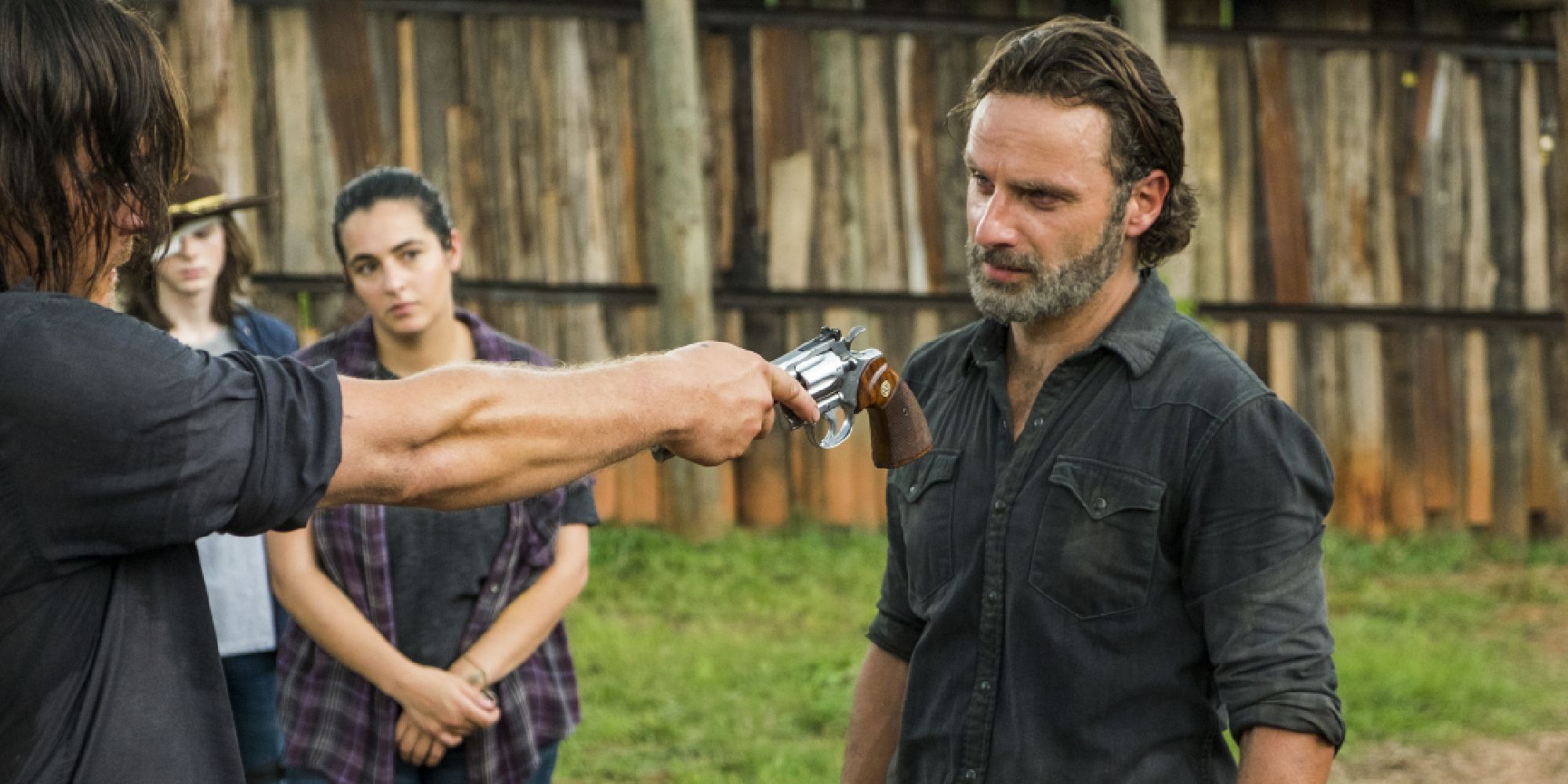 Arguably already a classic dystopian series based on the comics by Robert Kirkman, The Walking Dead tells the story of Rick Grimes (Andrew Lincoln) who wakes up from a coma in the hospital to find himself in the midst of a zombie apocalypse. He then goes on a journey to find his wife and son and will team up with and lead many other survivors along the way.
This series has gained a cult following, as well as multiple spin-offs like Fear the Walking Dead and the upcoming spin-offs The Walking Dead: Dead Cityand the untitled project focusing on Rick and Michonne (Danai Gurira). Certain character deaths left viewers heartbroken and traumatized for years to come, and the show lives on despite having finished. The Walking Dead is one show that will certainly go down in dystopian media history as a classic.
Watch on Netflix
9
'Westworld' (2016 – 2022)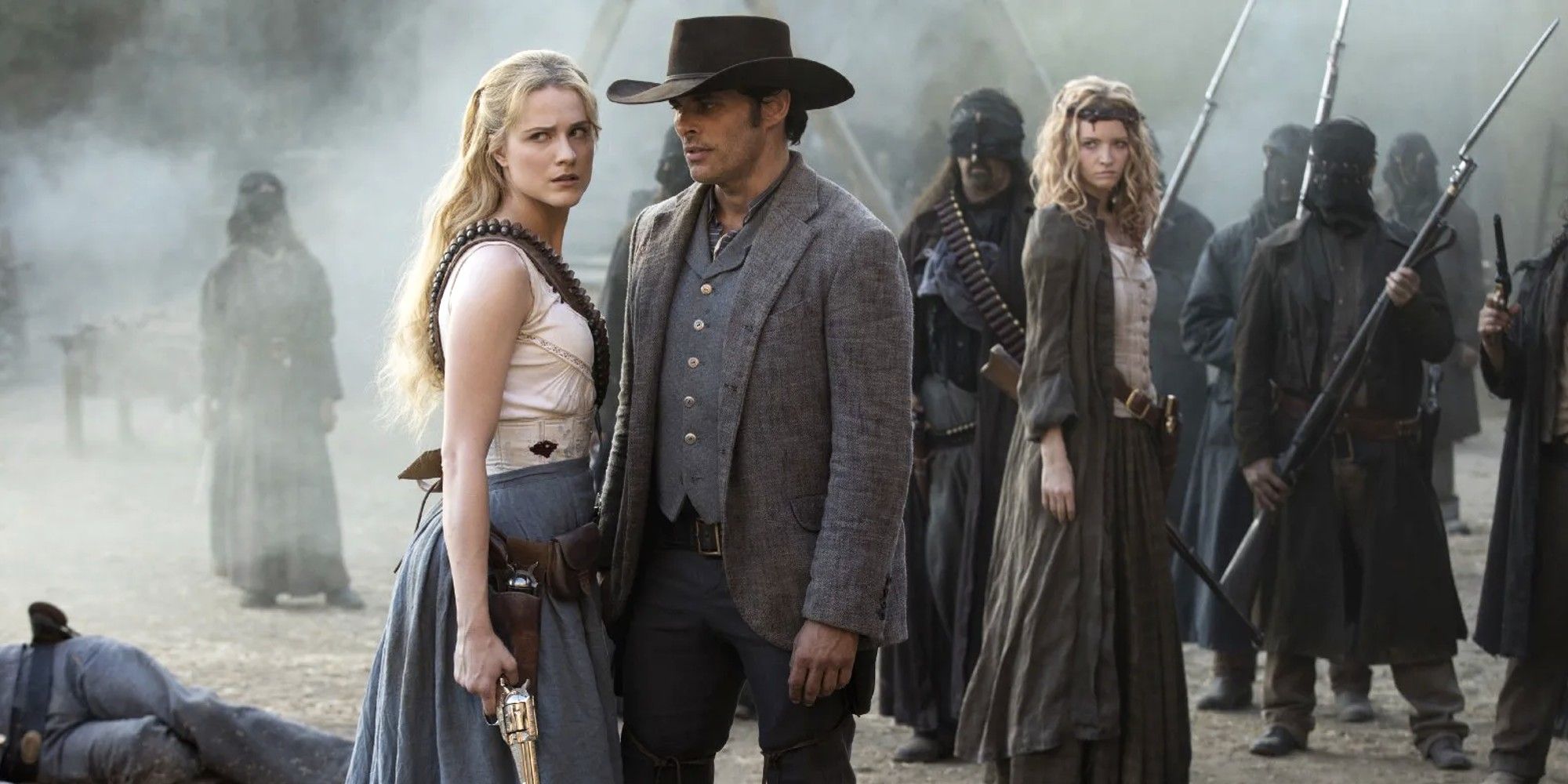 Based on the 1973 film, Westworld is both the title of the series and the name of the futuristic amusement park in the show that's marketed to the wealthy as a utopian wonderland where any and all of your fantasies can come true without consequences. Being run by robotic hosts, the park uses artificial intelligence and a host of other technologies to meet the sometimes illegal and dangerous desires of its visitors.
The series has perhaps already overshadowed the existence of the original film with its popularity, and its original concept and star-studded cast will certainly add to the possibility that Westworld will become a classic. The cast includes stars like James Marsden, Tessa Thompson, Thandiwe Newton, and Evan Rachel Wood.
Watch on DirecTV
8
'The Man in the High Castle' (2015 – 2019)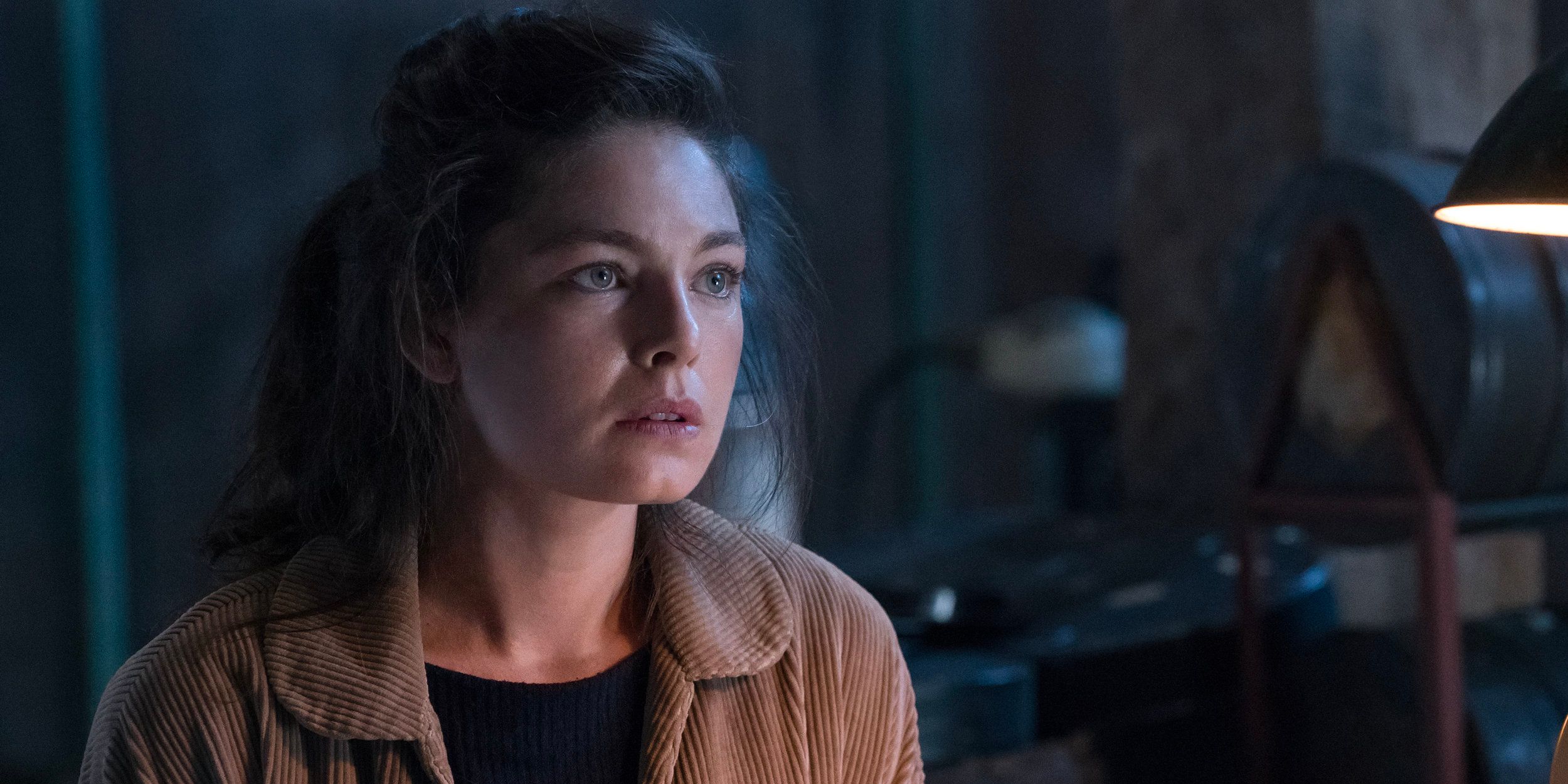 With Ridley Scott serving as an executive producer, Amazon Prime's original series The Man in the High Castle is one of the streaming service's best releases. Loosely based on Philip K. Dick's novel of the same name, the show takes place in an alternate universe where the Axis emerged from WWII the victors and America is divided between Germany and Japan.
RELATED: Sci-Fi Shows to Watch if You Don't Like Sci-Fi
The Americans living under the oppressive regimes find renewed hope with the discovery of footage from parallel universes which show a reality where the Allies won the war. The series ran for four seasons and won universal critical appraisal on account of its engrossing plot, dynamic characters, and its distinct dystopian tone.
Watch on Prime Video
7
'Silo' (2023 – )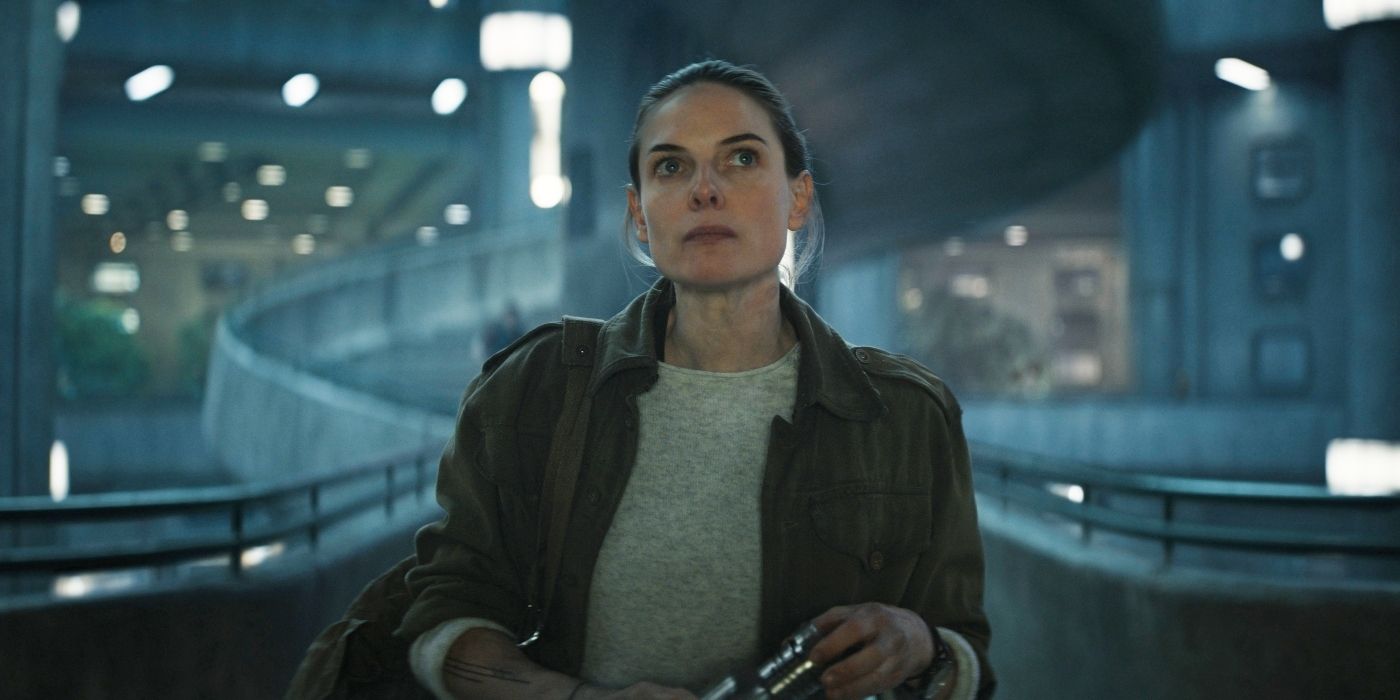 One of the most recent television hits, Silo excelled as an Apple TV+ original series which transpired in an underground silo in a future where the outside air has become toxic. Rebecca Ferguson stars as Juliette Nichols, an engineer who becomes the Sheriff of the community, enabling her to investigate her suspicions that the truth of the world might not be what the governing body claims.
In addition to its mysterious sci-fi plot, the series also boasted incredible production design, a brilliant script, and commanding performances as its defining highlights. The series also features Rashida Jones, David Oyelowo, Common, and Tim Robbins in major parts and has been renewed for a second season.
Watch on Apple TV+
6
'Fringe' (2008 – 2013)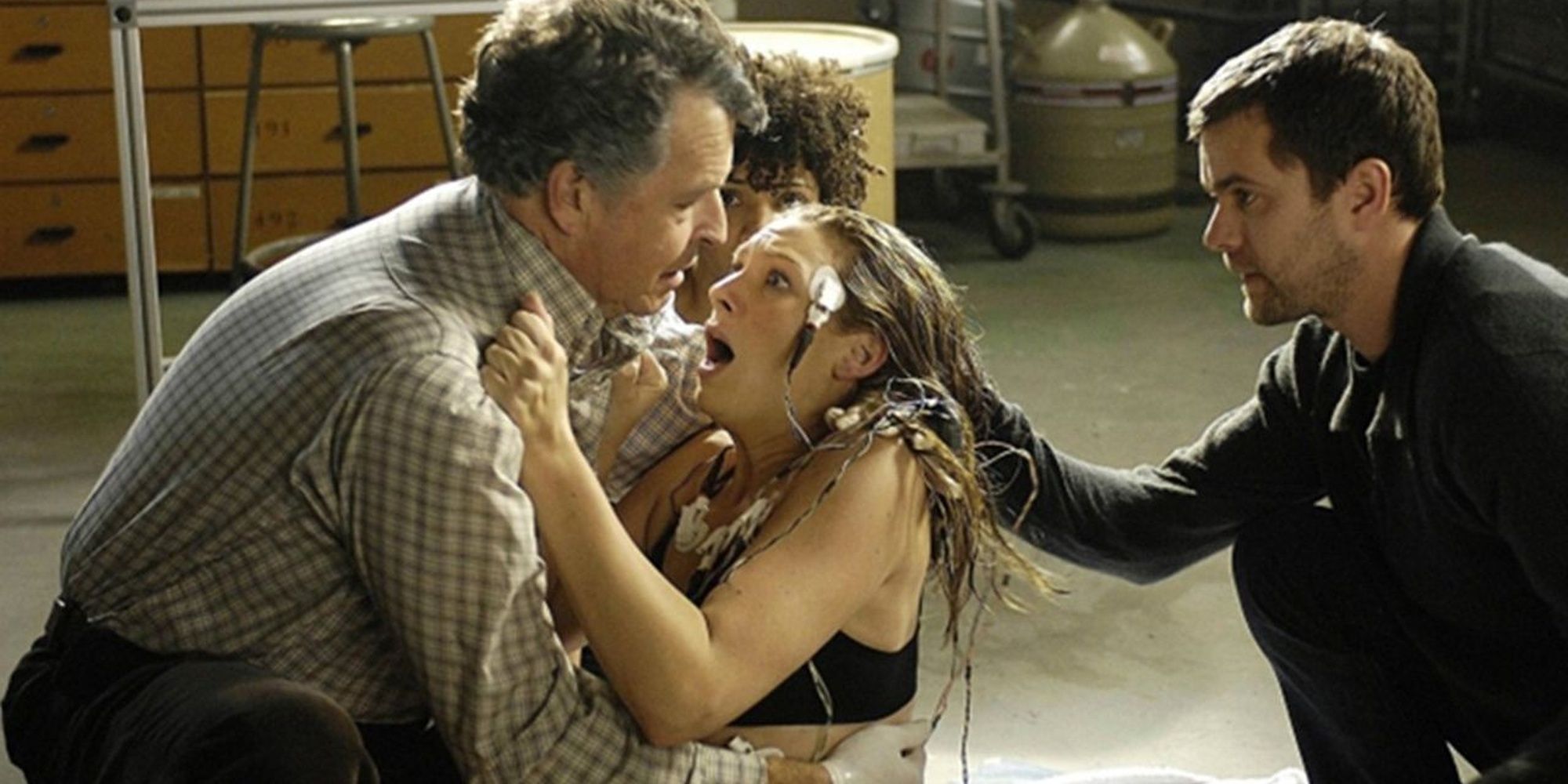 In the show Fringe, F.B.I. Agent Olivia – played by the legendary Anna Torv – has her eyes opened when she gets assigned to the Fringe Division, where she learns about the existence of seemingly dark and dangerous parallel universes. Along with Dr. Bishop (John Noble), Peter (Joshua Jackson), and Junior Agent Farnsworth (Jasika Nicole), she explores these universes and attempts to solve the mysterious cases interconnecting them all. The series' dystopian elements lie in the parallel universes the team encounters.
Running for five seasons and garnering a cult following, many could argue that the series has already reached classic status. It is also one of the more unique dystopian shows out there, as it focuses on danger lurking in parallel universes rather than the aftermath of a cataclysmic event or the creeping possibilities of technology. Fans of the genre who haven't seen this show might be pleasantly surprised if they give it a try.
Watch on Max
5
'12 Monkeys' (2015 – 2018)
Based on the original film starring Bruce Willis, the 12 Monkeys television series focuses on James Cole (Aaron Stanford), a time traveler from 2043 who must travel back to 2015 to stop a deadly virus from being released by the so-called Army of the 12 Monkeys. To save humanity from this plague, he must team up with Dr. Cassandra Railly (Amanda Schull), a virologist who may be his only hope for stopping the virus.
RELATED: Television Shows That Started as Movies
Another television show that's perfect for fans of post-apocalyptic media, 12 Monkeys overcame an underwhelming first season and went from strength to strength throughout the rest of its five-season run. While it follows the concept of the 1995 film, it makes plenty of changes to keep audiences on their toes, resulting in a pulsating sci-fi thriller series that has every chance of becoming a revered classic and one of the best dystopian tv series.
Watch on Hulu
4
'Station Eleven' (2021 – 2022)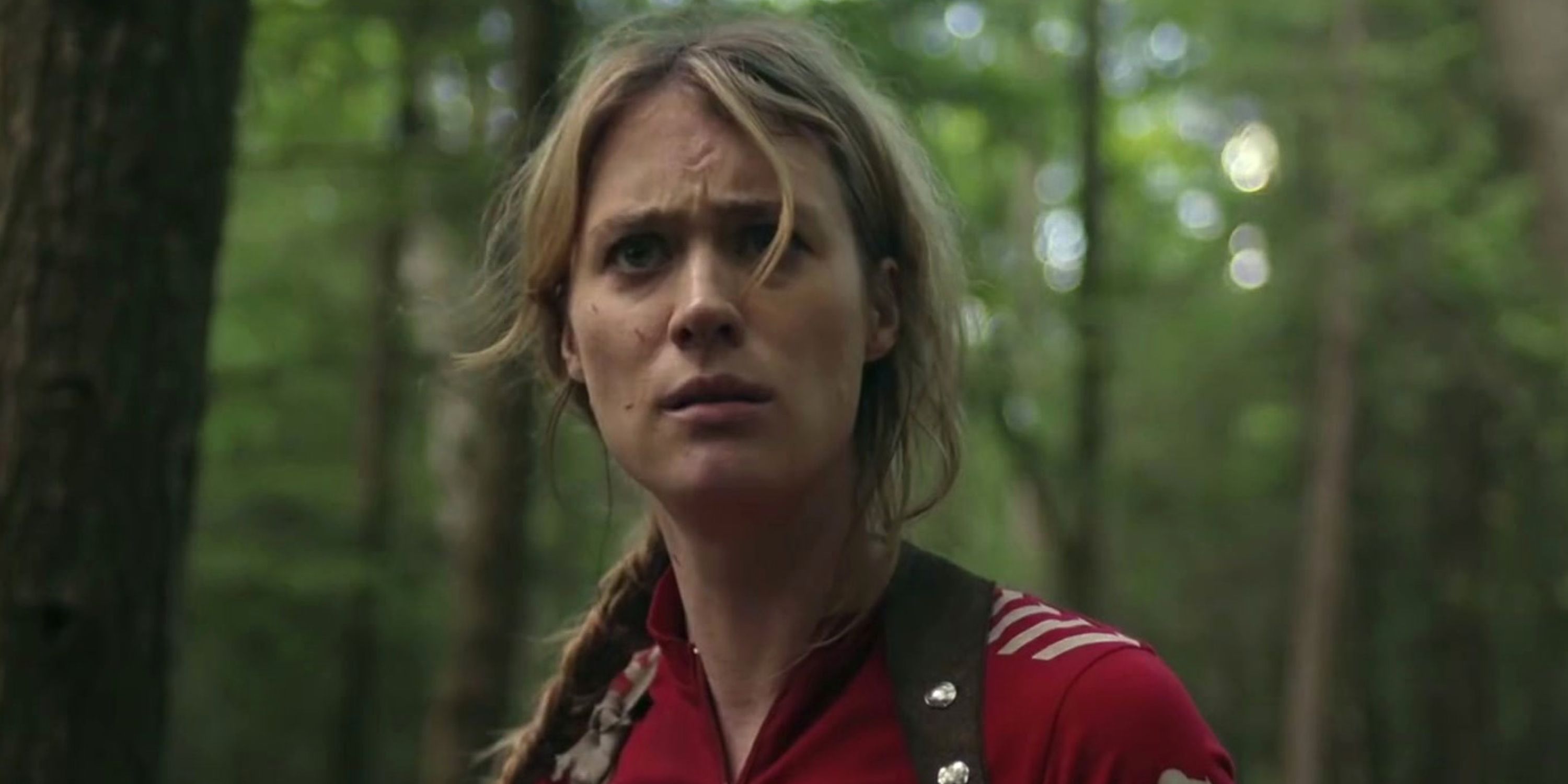 The critically-acclaimed Station Eleven is based on the novel by Emily St. John Mandel, taking place twenty years after a flu ravaged civilization. Among those survivors is the Traveling Symphony, a group of traveling performers who are just trying to survive and get by, but will be forced to encounter dangerous obstacles.
Both heartbreaking and captivating, the criminally underrated series makes the most of its sublime cast who enrich every dramatic moment of the series with their presence and gravitas. The miniseries is perfect for fans of dystopian drama as it engages with the despair and violent desperation of a post-apocalyptic world with such bite that it would be a terrible shame if the series were to not become a cherished cult classic.
Watch on Max
3
'The Handmaid's Tale' (2017 – )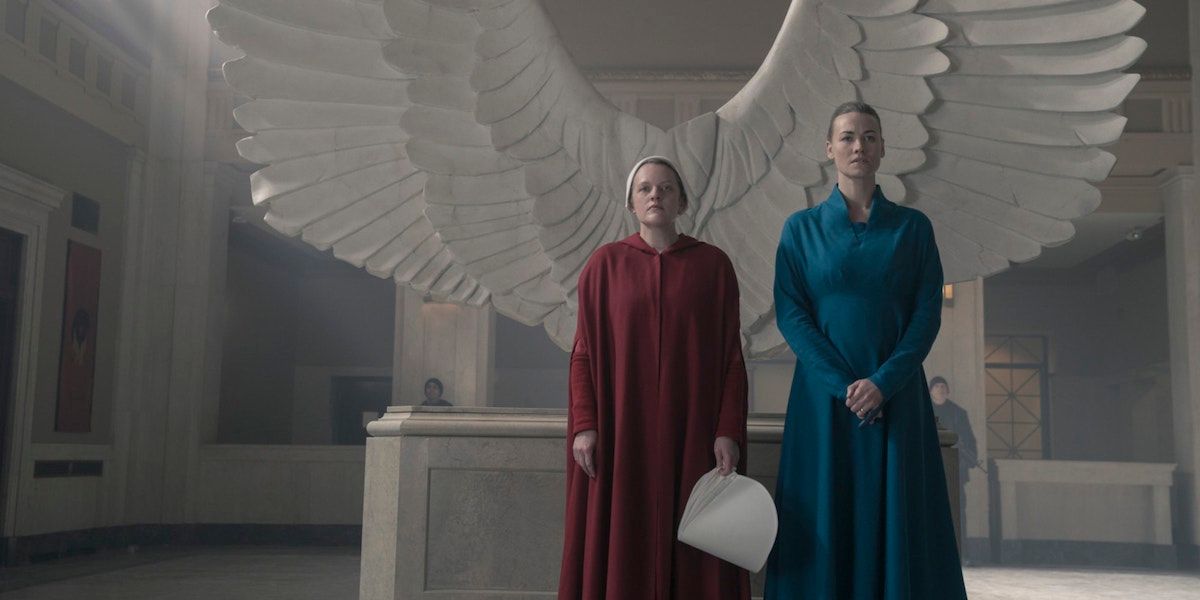 Based on the Margaret Atwood novel, The Handmaid's Tale takes place in a dystopian United States called Gilead where fertile women are forced into a twisted form of sex trafficking that is meant to produce babies for the wealthy and powerful. The series focuses on one woman named June (Elisabeth Moss) who while forced into this slavery, is determined to rescue her daughter and return to husband Luke (O-T Fagbenle).
RELATED: The Best Book-to-TV Adaptations
This dystopian show is perfect for fans of intense dramas which depict the darkest components of human nature while still having a great deal of care for its complex characters. The series has earned widespread critical acclaim across its five seasons and will likely be revered as one of the best dystopian shows ever made due to its originality and political relevance.
Watch on Hulu
2
'The Last of Us' (2023 – )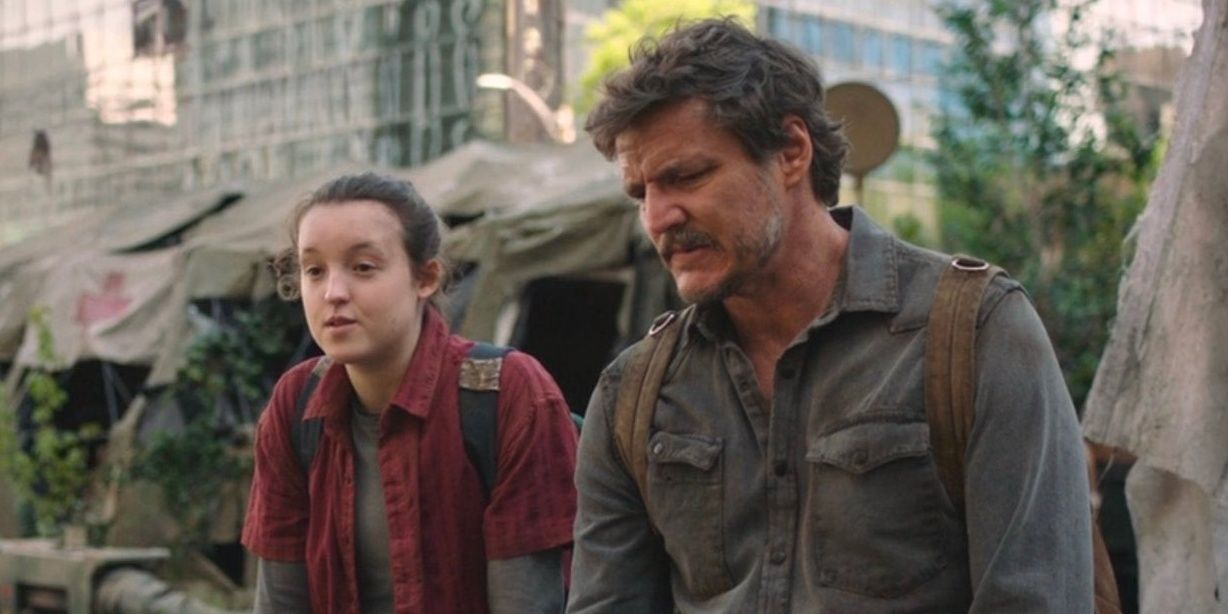 A series based on the hit video game of the same name, The Last of Us focuses on the hard-shelled smuggler Joel (Pedro Pascal) who is tasked with the ultimate job – transporting a teenage girl named Ellie (Bella Ramsey), who may hold the key to saving humanity. The two undergo a harrowing journey across a post-apocalyptic America, evading the vicious fungal zombies and other survivors.
Having already broken streaming records for HBO, The Last of Us has been renewed for a second season and will continue to follow the plots of the popular original video games. The series is a rare highlight of video game adaptation for the screen, using the medium to expand on the source material and immediately establish it as one of the best dystopian series of all time.
Watch on Max
1
'Black Mirror' (2011 – 2019)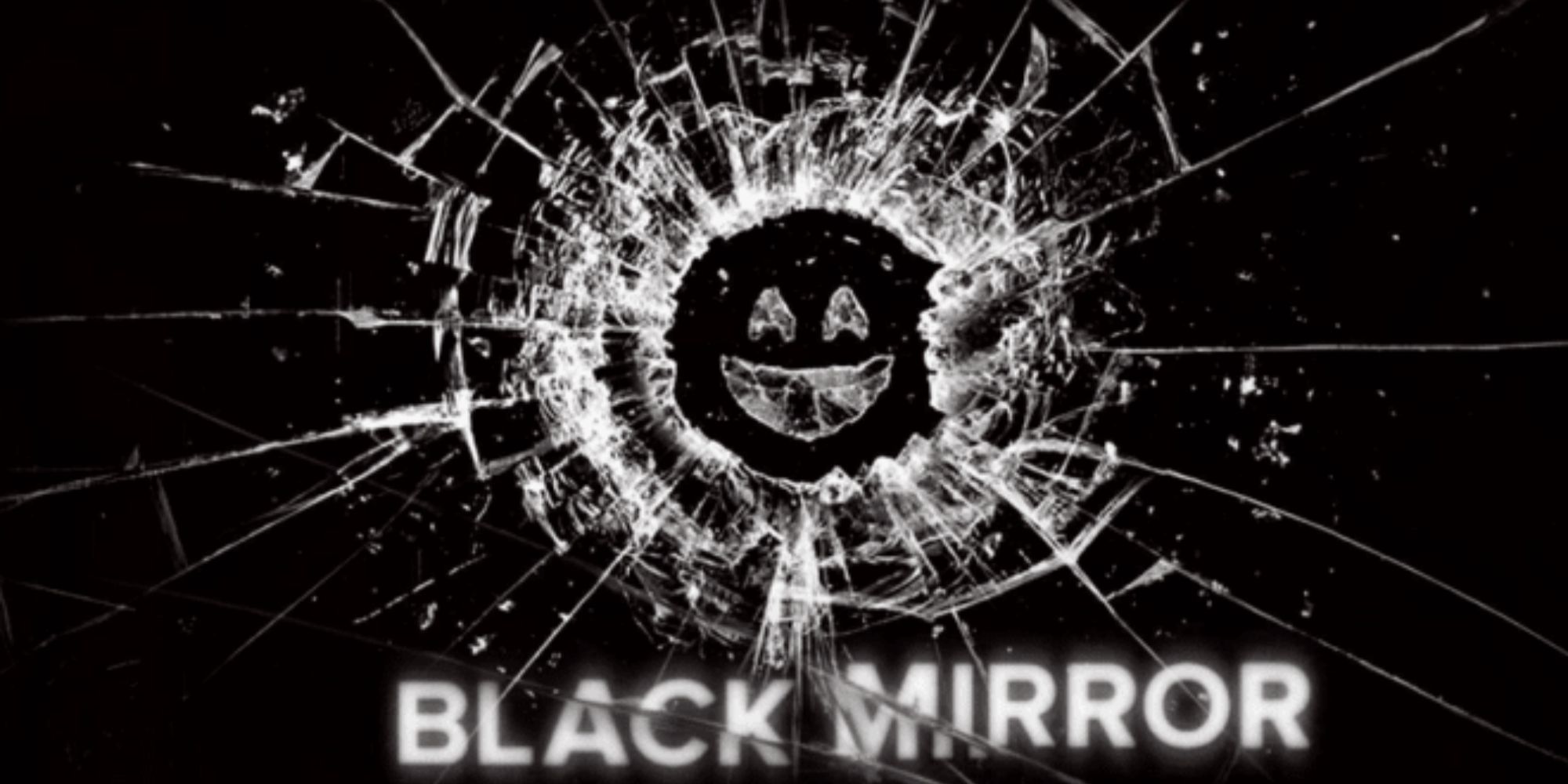 Black Mirror, in the vein of The Twilight Zone, is an anthology series that delivers a sharp critique of modern society and its current and potential technological advances. It can be described as a techno-dystopia as it focuses on the dark and twisted side of technology and the effects that it can have on people and society as a whole.
This series is particularly brilliant in the way it uses its anthology format to touch on a host of different topics, telling many different stories over the course of its runtime. From celebrities to internet scandals and going viral in the worst way, Black Mirror has every technological nightmare one can dream of. It could be argued that it has already reached classic status.
Watch on Netflix
NEXT: The Best Dystopian Shows of All Time, Ranked According to IMDb