We all have our favorite actors, the ones we get excited about when they announce their latest roles. But which actor's face always seems to be in the newest Hollywood blockbuster or the latest TV series? If you answered Tom Hanks, Morgan Freeman, Robert De Niro, or Julia Roberts, you'd be wrong. While these actors have been in plenty of movies, they don't even break the top ten.
The "Man of a Thousand Voices," Mel Blanc is regarded as the actor who's racked up the most acting credits – more than 1,200 – voicing Bugs Bunny, Porky Pig, Daffy Duck, and many, many more cartoon characters since the 1930s. For actors who are famous for their live-action roles, some of them are the hardest-working men and women in show business. Your favorite actors likely have dozens, if not hundreds of credits under their names.
Updated on July 12, 2023, by Jessie Nguyen:
The production of thousands of movies and television series annually makes the movie industry one of the busiest in the world and necessitates the employment of many active performers. However, these renowned actors and actresses would surpass all other actors in terms of acting credentials, regardless of how hard other actors worked.
20
Bette Davis (123 acting credits)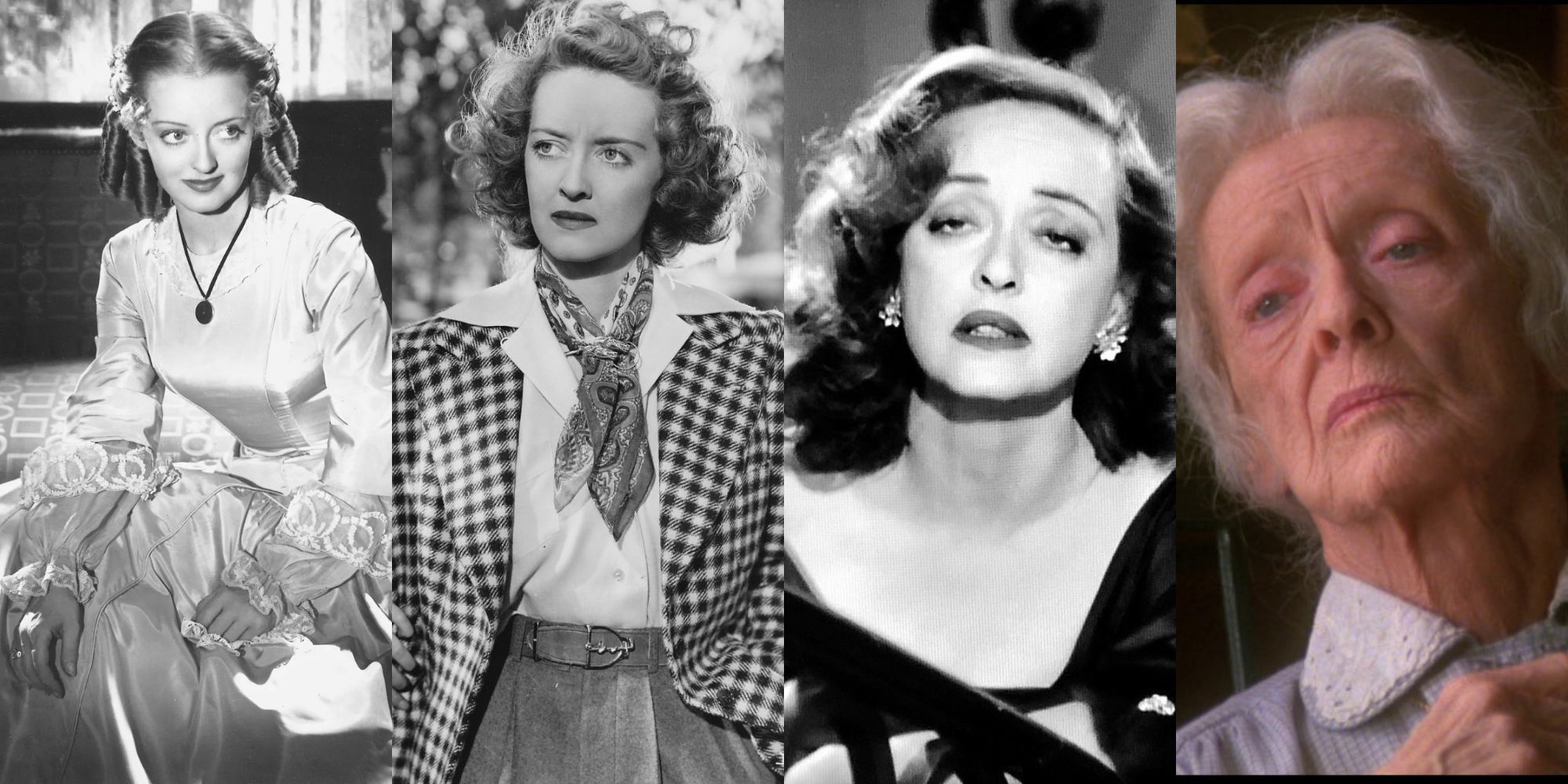 Bette Davis, born Ruth Elizabeth Davis in 1908, was an American actor with a career spanning almost 50 years and 123 acting credits under her belt. She was one of the most iconic actors from Hollywood's Golden Age for her performances in a variety of movie genres and for portraying characters who were cold and sarcastic.
Davis' first acting credit was for the movie Bad Sister (1931) in which she played Laura Madison, establishing her career forwards. After that, hardly ever a year went by without the release of a film starring Davis. She is most famous for her role as Margo in the 1950 film, All About Eve, What Ever Happened to Baby Jane? (1962), Dark Victory (1939), and Now, Voyager (1942). Moreover, Davis won two Oscars for her performances in Dangerous (1935) and Jezebel (1938) throughout her successful career.
19
Jackie Chan (147 acting credits)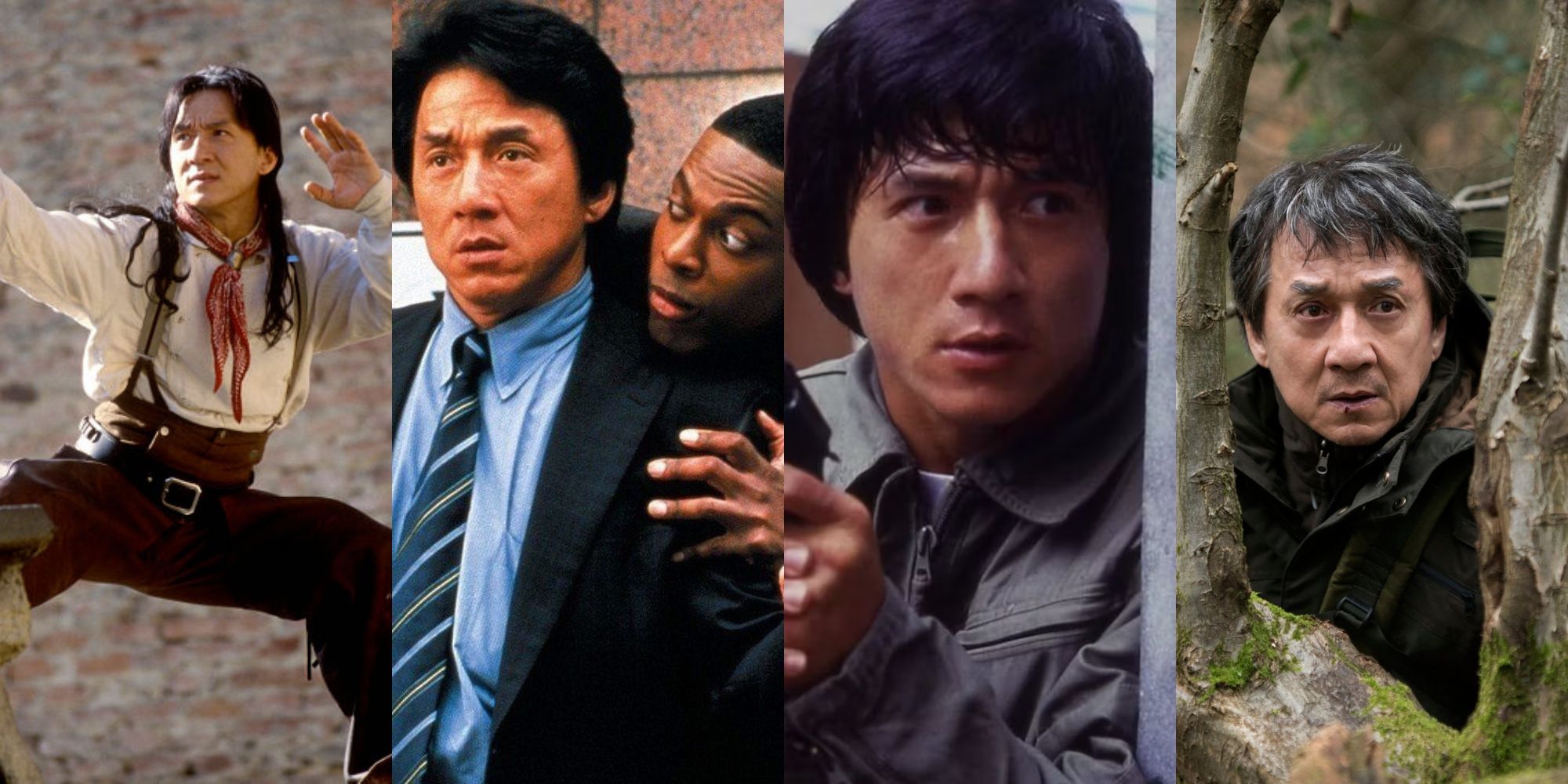 Jackie Chan is no stranger to moviegoers and fans of martial arts films, gaining fame for his action-comedy style. Some of his most popular movies include Drunken Master (1978), Police Story (1985 – 1992), Rush Hour (1998), and Shanghai Noon (2000). Moreover, Chan has received numerous accolades for his contributions to film and philanthropy. He has been recognized with awards like the Honorary Oscar for his extraordinary achievements and lifelong dedication to the industry.
Chan's first credited role in a film was in the 1962 movie titled Big and Little Wong Tin Bar. At the time, Chan was only eight years old. Although considered a minor role, it marked the beginning of his prolific career in the film industry. He later goes on to be in numerous action-comedy blockbusters such as Rush Hour, Shanghai Noon, Shanghai Knights (2003), and Kung Fu Panda (2008). Chan's latest appearance is in Hidden Strike (2023) in which he acts opposite John Cena.
18
Anthony Hopkins (147 acting credits)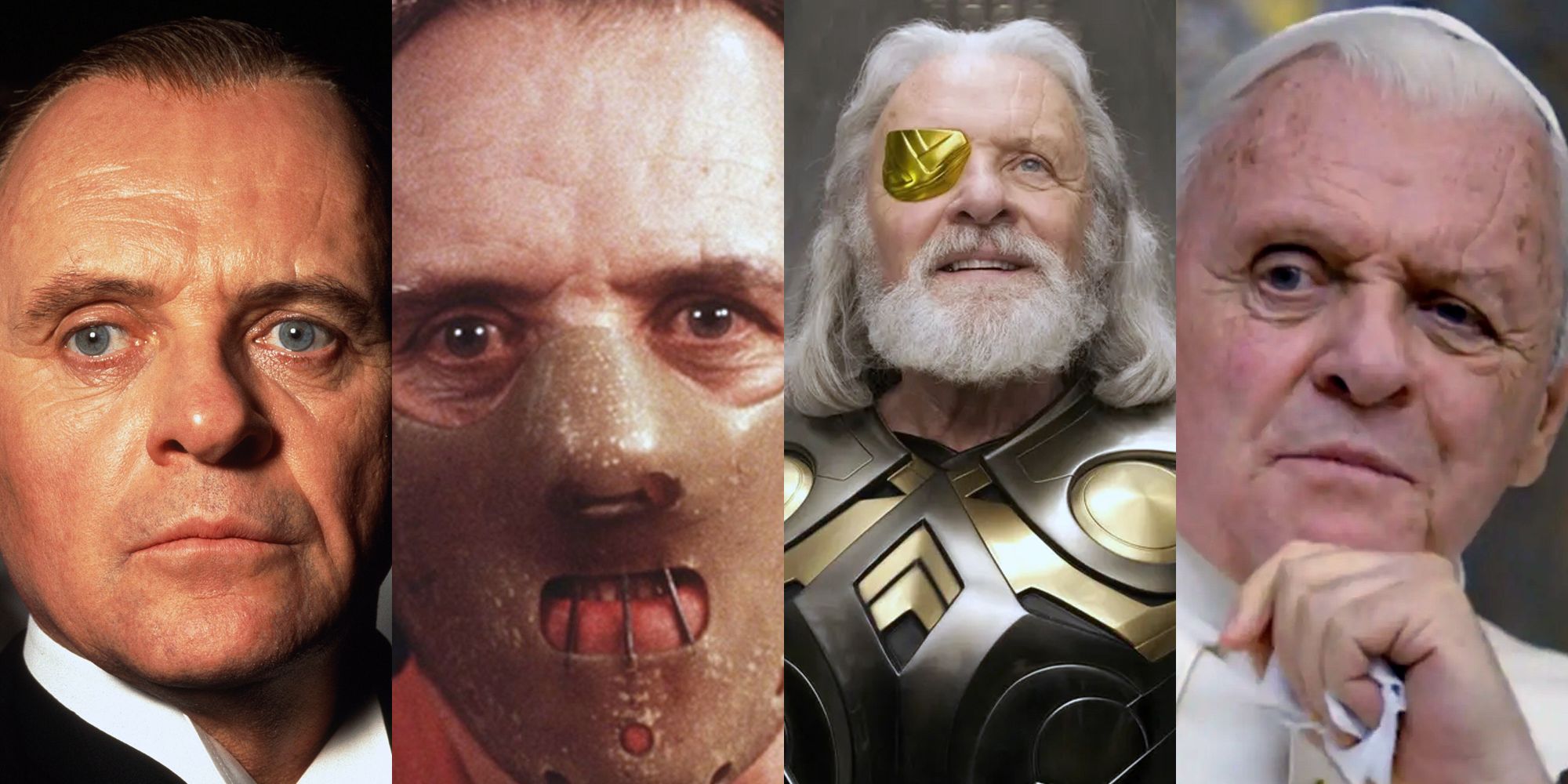 Welsh actor Anthony Hopkins started his career with a recurring television spot in 1960 but is probably best known for his stint as Hannibal Lector in the hugely successful The Silence of the Lambs (1991) and its less-successful follow-ups, Hannibal (2001) and Red Dragon (2002). With a penchant for playing evil characters Hopkins, now aged in his 80s, has continued to take on big roles.
He's reprised his role as Odin in the Marvel Cinematic Universe's Thor (2011), Thor: The Dark World (2013), and Thor: Ragnarok (2017), as well as notable performances in Hitchcock (2012), The Two Popes (2019), The Father (2020) – the last of which earned him an Oscar for Best Actor – and as Dr. Robert Ford in the TV series Westworld (2016 – 2018). Hopkins is showing no signs of stopping any time soon.
17
Robert Duvall (146 acting credits)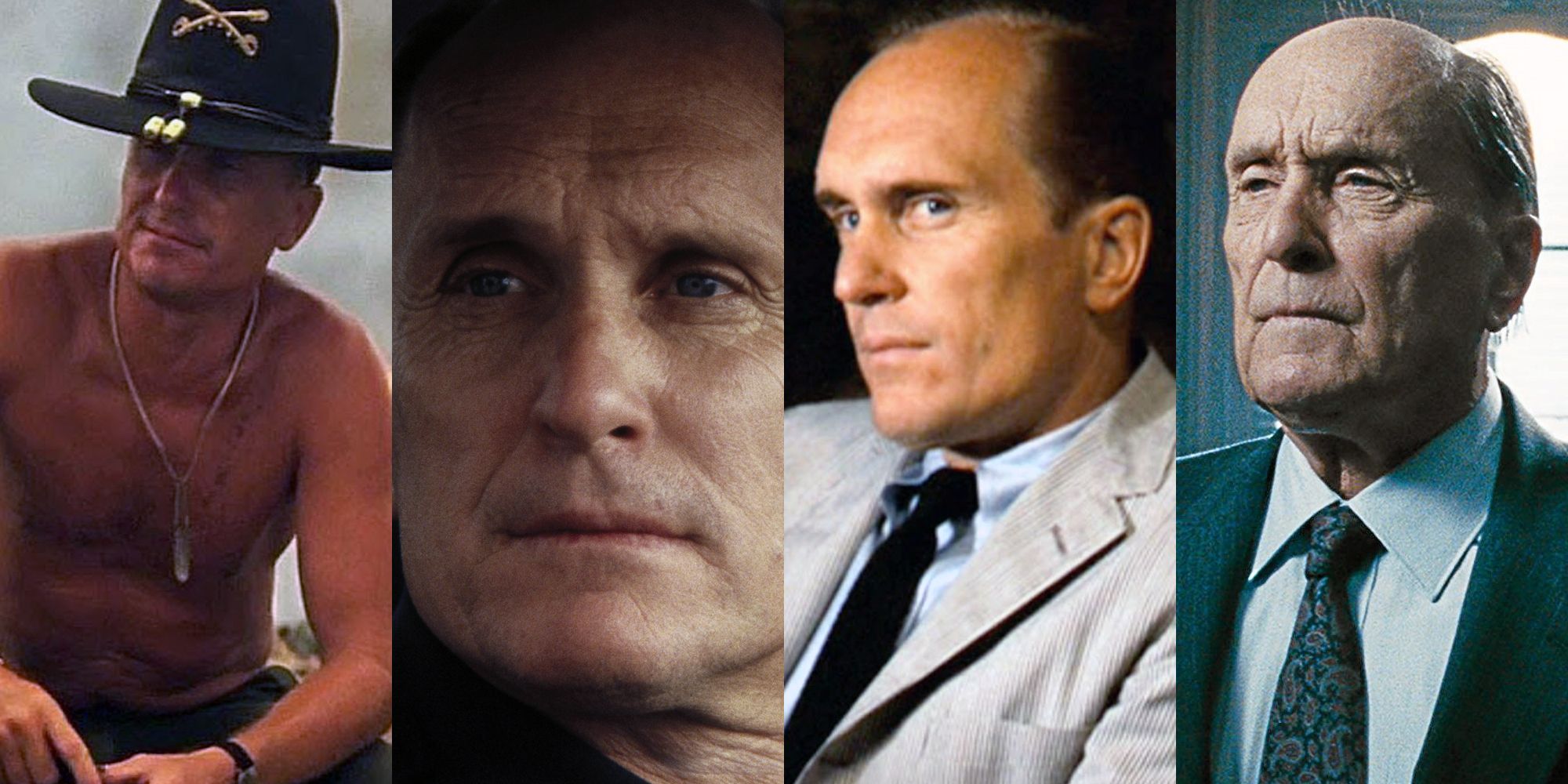 Making his film debut as Boo Radley alongside Gregory Peck in the 1962 classic To Kill a Mockingbird, Robert Duvall has made a name for himself ever since, seamlessly transitioning from the stage, where he began his illustrious career acting career, to the big screen.
Duvall has worked with some heavy hitter directors in his time, appearing as the lead in George Lucas' directorial debut THX 1138 (1971) and Francis Ford Coppola's The Godfather (1972), The Godfather: Part II (1974) and Apocalypse Now (1979). Despite his only Oscar win in 1984 – Best Lead Actor for Tender Mercies – Duvall has continued to flex his acting muscles in Deep Impact (1998) and The Judge (2014), with a movie due for release this year and one currently in production.
16
Susan Sarandon (167 acting credits)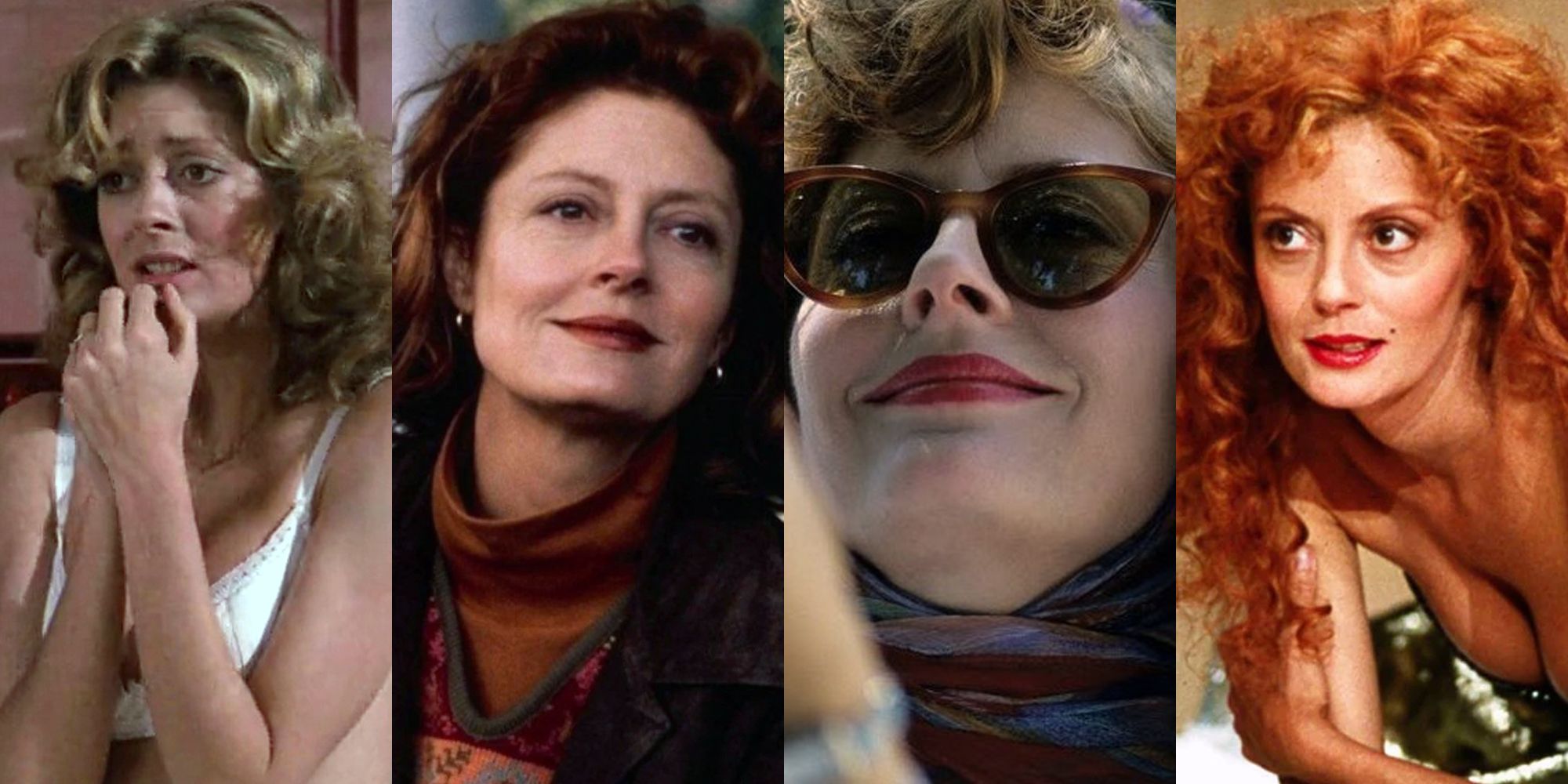 Born Susan Abigail Tomalin, Susan Sarandon is one of the most prolific leading actors in the business. Sarandon's film career started in 1970 with a major role in the movie Joe, followed five years later with the now-iconic role of Janet in the cult classic The Rocky Horror Picture Show. Throughout the '80s and '90s, she showed off her range, starring in fan favorites The Witches of Eastwick (1987), Bull Durham (1988), and, of course, the iconic Thelma & Louise (1991).
After four Oscar nominations, Sarandon finally won the Best Leading Actress Oscar for her role as Sister Helen Prejean in Dead Man Walking (1995), opposite Sean Penn. Between then and now, she has continued to appear regularly on stage and screen (both big and small) and currently has four movies in pre-production.
15
Ray Milland (175 acting credits)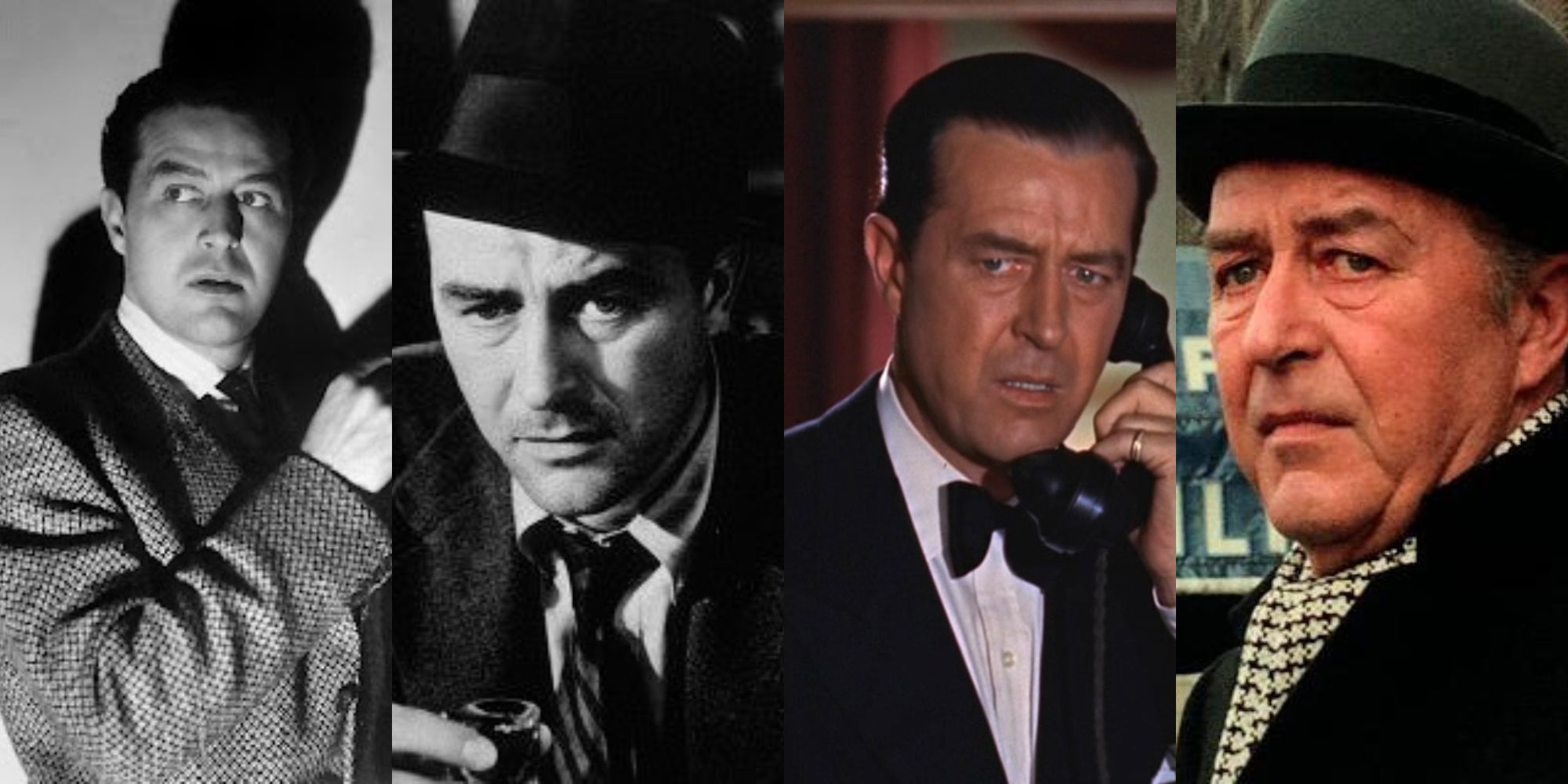 Ray Milland, the famous actor known mostly for his appearance in The Last Weekend (1945) also happens to earn him his very first Oscar win. Born Alfred Reginald Jones, Milland's screen career ran from 1929 to 1985 with 175 acting credits attached to his name. Before landing his first significant role in The Flying Scotsman (1929), he worked as an extra in several British productions after leaving the army.
In addition to The Thief (1952), for which he received his second Golden Globe nomination, Milland also starred in Dial M for Murder (1954), Love Story (1970), The Uninvited (1944), Beau Geste (1939), Billy Wilder's The Major and the Minor (1942), and The Big Clock (1948). He also attempted directing and television acting as well.
14
Michael Caine (177 acting credits)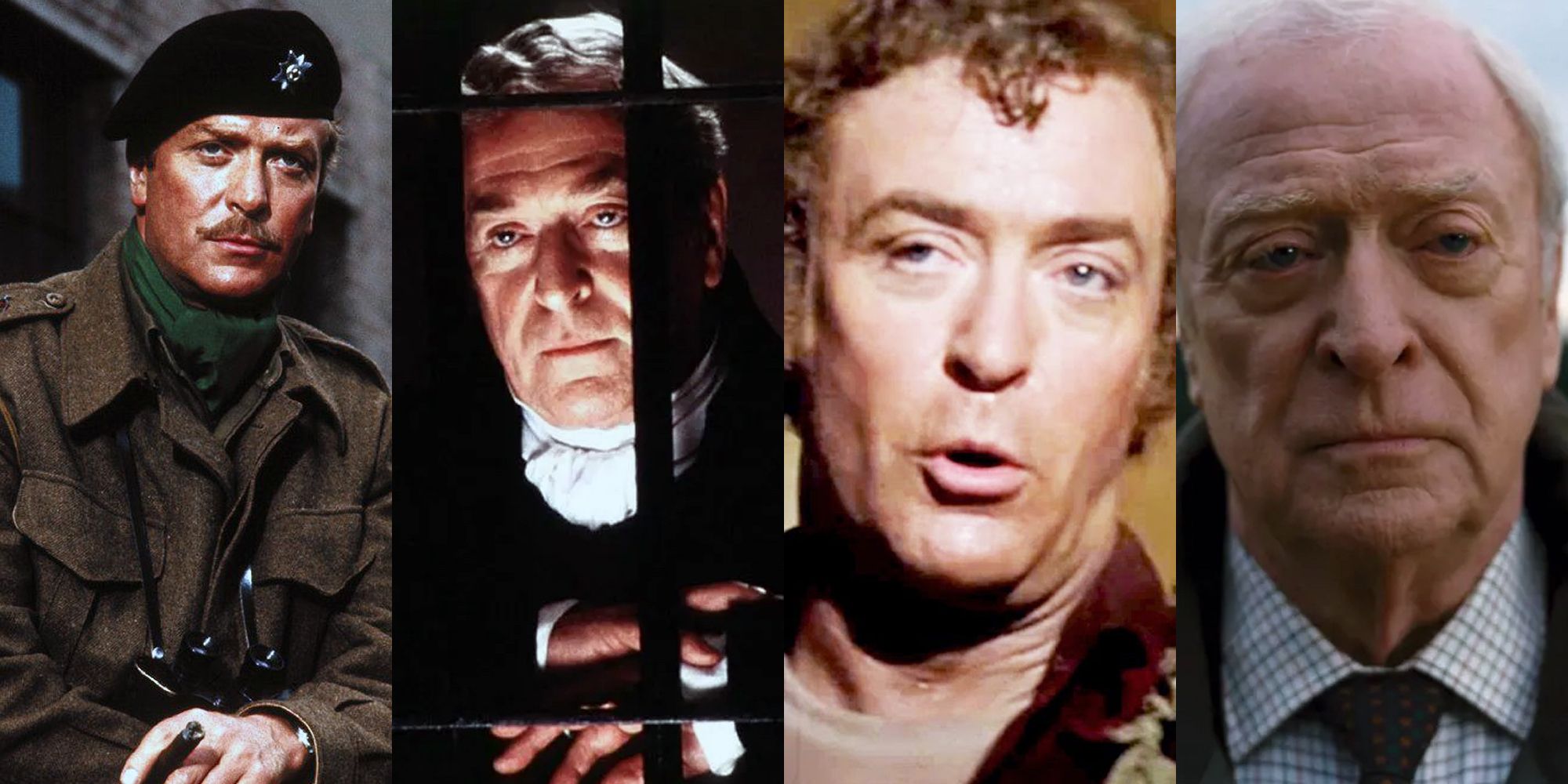 After returning from fighting for the British army in the Korean War, Maurice Joseph Micklewhite – best known by his screen name Michael Caine – decided to try acting. The international attention he garnered for his role as the snobbish Lieutenant Gonville Bromhead in Zulu (1964) catapulted his career; his turn as the titular character in Alfie (1966) solidified it. The proof of his acting prowess lies in the fact that he's been nominated for an Academy Award every decade for the past five consecutive decades.
Of late, Caine is best known for playing Batman's loyal butler, Alfred Pennyworth, in Christopher Nolan's The Dark Knight trilogy and has appeared in several more of Nolan's movies, including Inception (2010) and Interstellar (2014). In 2021, Caine shut down rumors that he was retiring from acting and, to prove the point, has three movies awaiting release.
13
James Earl Jones (189 acting credits)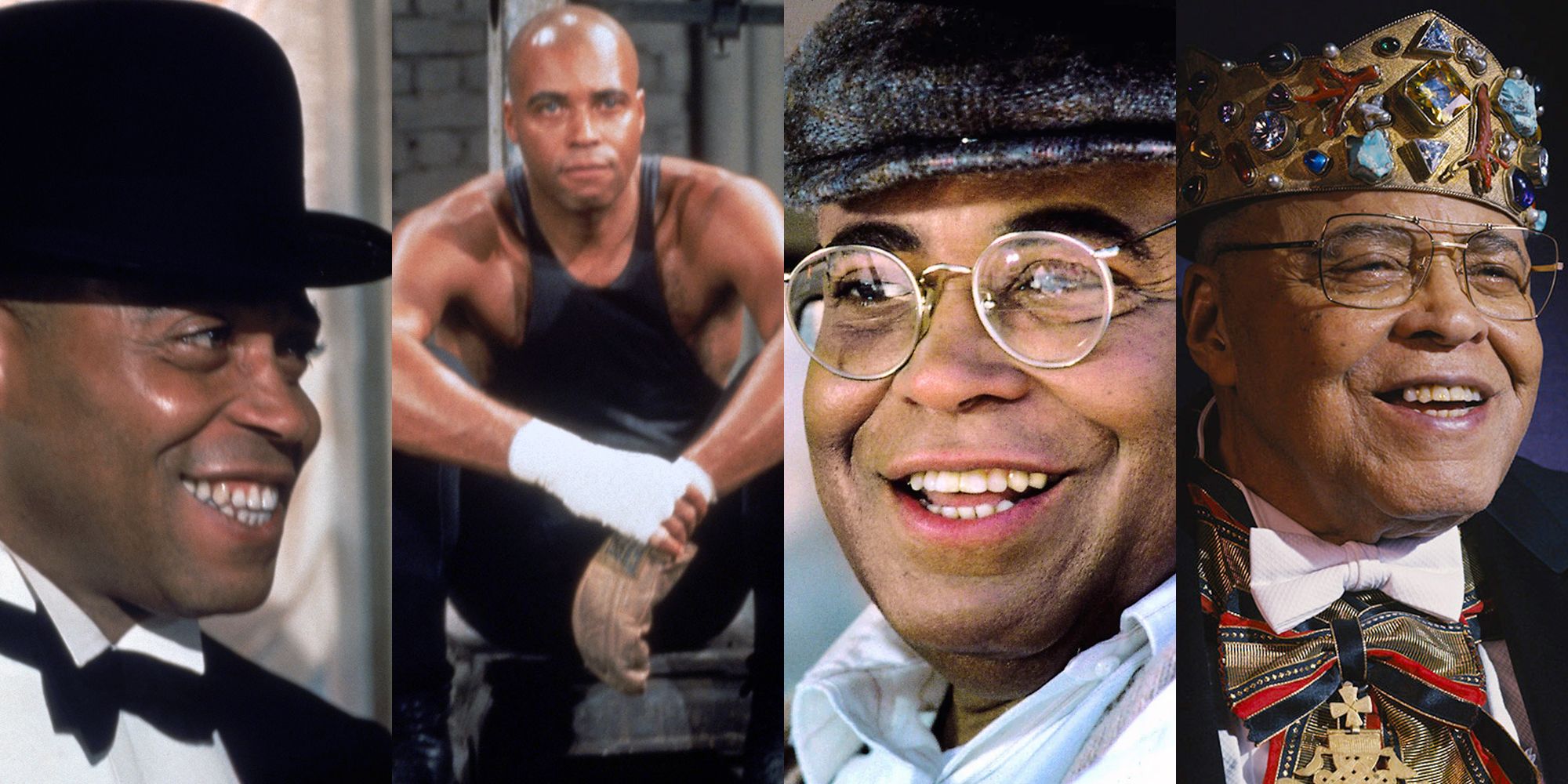 "No, I am your father!" While it is the voice of Darth Vader that James Earl Jones is best known for, Jones is considered one of the greatest stage and screen actors in the US and internationally. Jones got his big-screen break as Lieutenant Lothar Zogg in the Stanley Kubrick classic Dr. Strangelove or: How I Learned to Stop Worrying and Love the Bomb (1964).
In addition to loaning his deep, resonant voice to the Star Wars franchise, Jones also voiced Mufasa in The Lion King (2019). The prodigious actor has moved effortlessly between television and movie roles throughout his career, giving us memorable performances in Soul Man (1986) and Coming to America (1988), a role that he reprised in the 2021 sequel Coming 2 America.
12
Donald Sutherland (199 acting credits)
Standing at 6'4", Canadian actor Donald Sutherland sets himself apart not only in terms of his stature but because of his lengthy acting career. He started in bit parts alongside another prolific actor, Christopher Lee, before securing his first big role as a last-minute replacement for the dopey Vernon Pinkley in the war movie The Dirty Dozen (1967). The movie was a hit and led to the starring role in another war film: M*A*S*H (1970).
A true character actor, stand-out performances in Klute (1971), Oliver Stone's JFK (1991), Cold Mountain (2003), and The Italian Job (2003) have secured Sutherland's position amongst Hollywood's acting elite. He was introduced to President Snow in the Hunger Games trilogy to younger audiences. Although he's never won an Academy Award for any of his numerous roles, Sutherland rightfully received an Honorary Oscar in 2018 for his contribution to film.
11
Danny Glover (202 acting credits)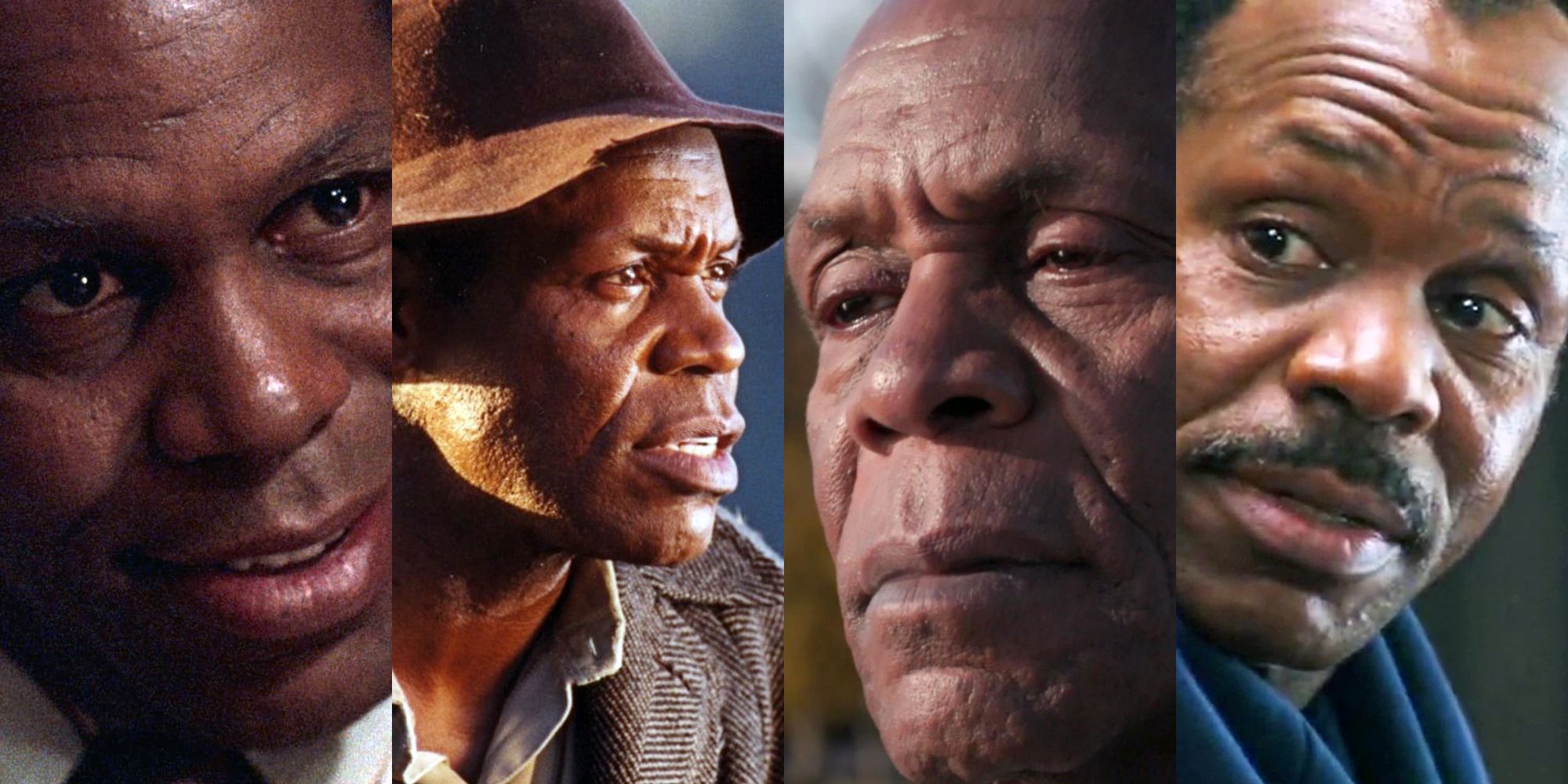 Danny Glover has been a presence on stage, screen, and television for over 35 years. Glover's Broadway debut in "Master Harold"…and the Boys brought him national attention. It led to his being cast in the Oscar-nominated movie Places in the Heart (1984) alongside Sally Field, Ed Harris, and John Malkovich.
During his time in Hollywood, Glover has appeared in everything from the blockbuster Lethal Weapon franchise to more subtle roles in Steven Spielberg's The Color Purple (1985), Dreamgirls (2006), and Death at a Funeral (2010). Glover has five movies due for release this year and, also in 2022, received an Honorary Oscar – the Jean Hersholt Humanitarian Award – for decades of activism and service.
10
Samuel L. Jackson (205 acting credits)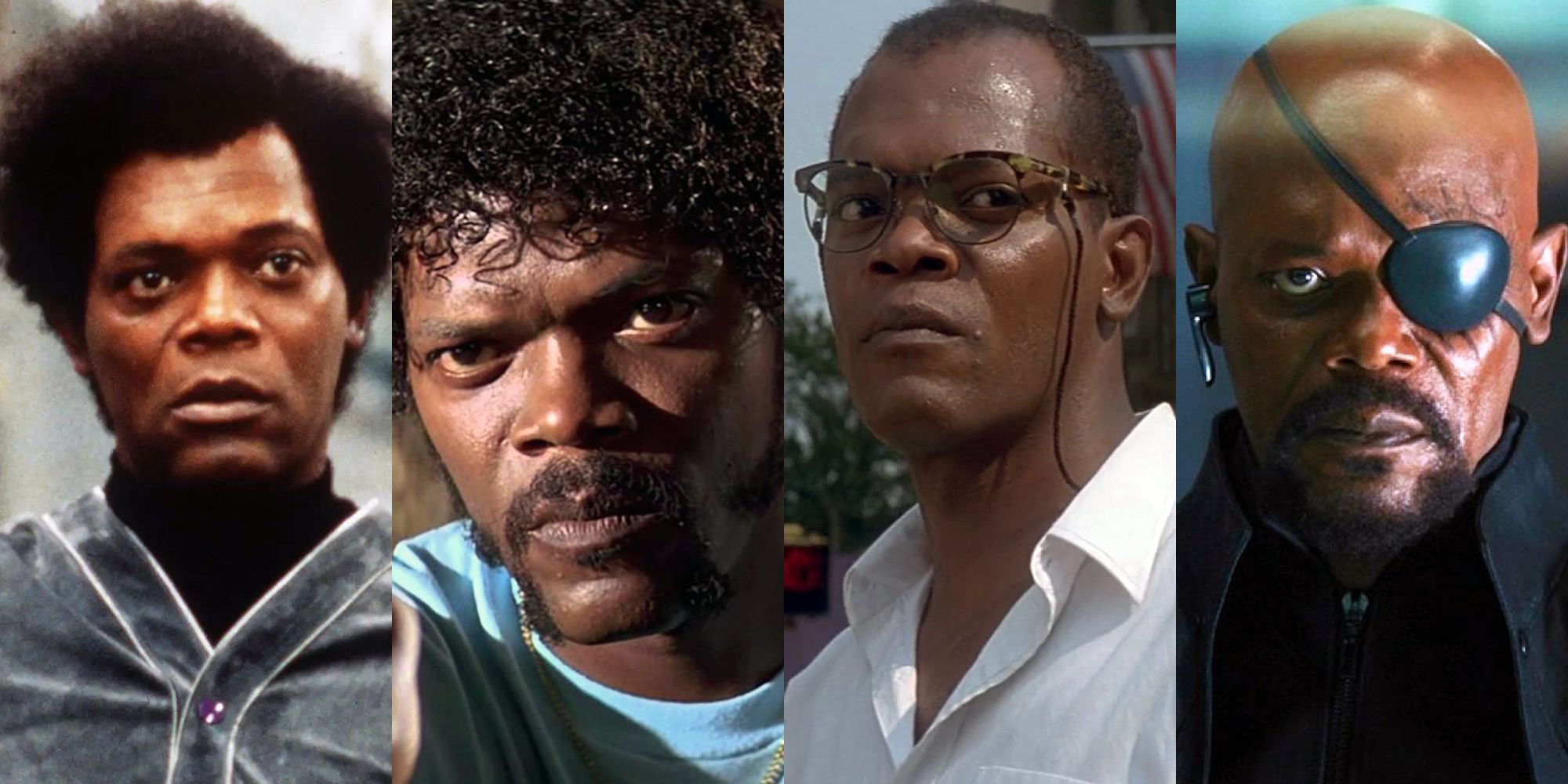 Appearing consistently (and multiple times per year) on our screens since 1972 – a career that spans 50 years – it seems like Samuel L. Jackson is in every movie. A highly prolific actor, Jackson's appeared in close to 200 movies, from the 1990s hits Patriot Games (1992) and Die Hard: With A Vengeance (1995) to M. Night Shyamalan's Unbreakable (2000) and Snakes on a Plane (2006). Then there are the Star Wars prequels and his appearance as Nick Fury in nine Marvel Cinematic Universe movies (so far).
As Quentin Tarantino's most-cast actor, Jackson has appeared in the Tarantino-penned True Romance (1993) and Tarantino-directed movies Pulp Fiction (1994), Jackie Brown (1997), Kill Bill: Vol 2 (2004), Inglourious Basterds (2009), Django Unchained (2012) and The Hateful Eight (2015). In 2022 Jackson received an Honorary Oscar, recognizing his body of work.
9
Louis Gossett Jr. (209 acting credits)
Louis Gossett Jr. is an American actor, humanitarian, and producer who rose to prominence with his role as Gunnery Sergeant Emil Foley in the 1982 film An Officer and a Gentleman. His performance earned him an Academy Award for Best Supporting Actor, making him the first African American male to win in that category. This role solidified his presence in Hollywood and showcased his talent and versatility as an actor.
Throughout his career, Gossett Jr. has appeared in numerous notable films, including Roots (1977), a groundbreaking television miniseries in which he portrayed the character of Fiddler, earning him an Emmy Award. He has also appeared in movies like Enemy Mine (1985), Iron Eagle (1986), and The Punisher (1989), among others, showcasing his range and ability to bring complex characters to life.
8
Robert Loggia (234 acting credits)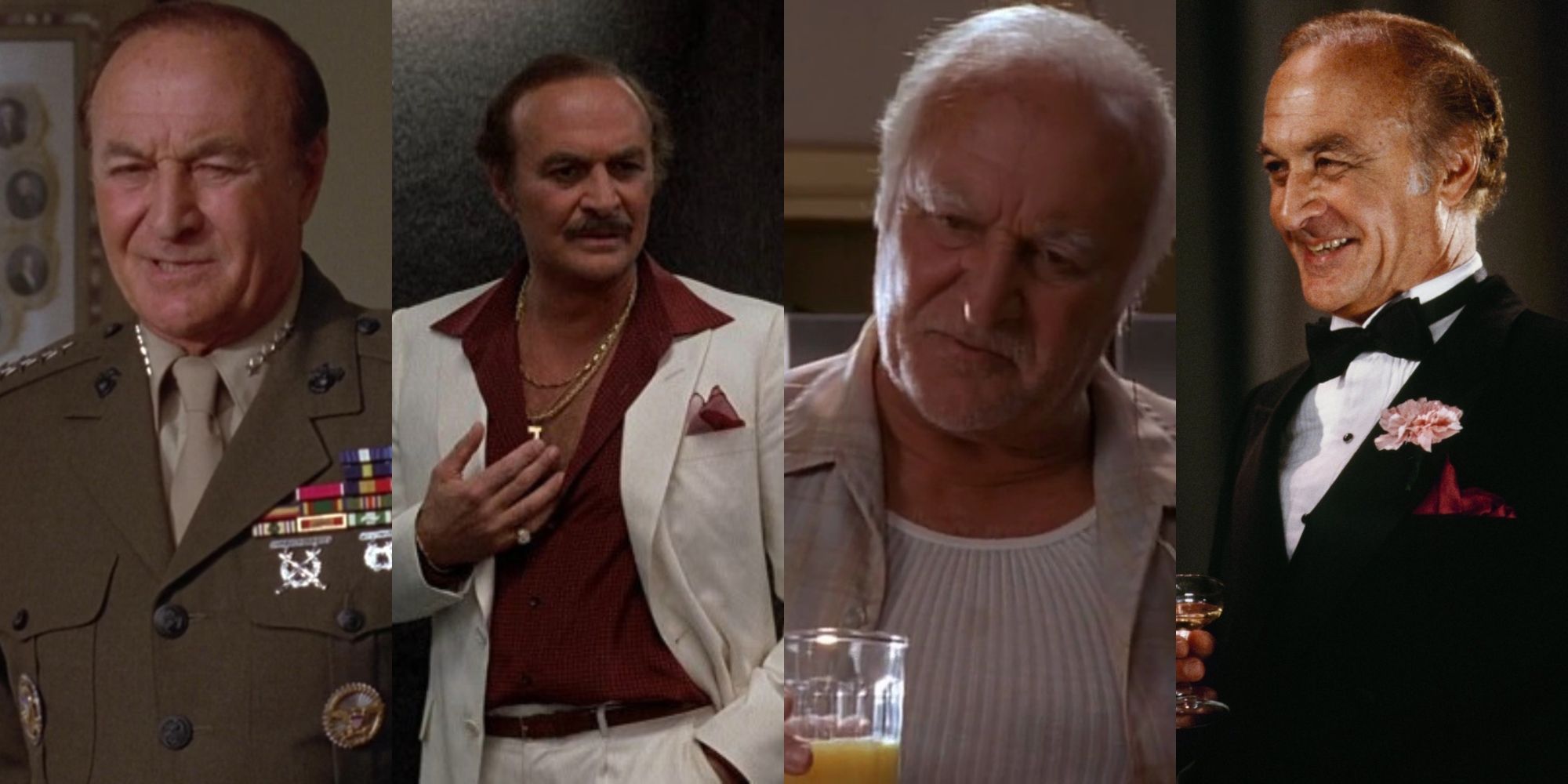 Robert Loggia was an American actor born in the 30s who had a long and successful career in film, television, and stage, appearing in a wide range of roles across various genres. Loggia's career spanned over six decades, with notable performances in movies such as Big (1988), for which he received an Academy Award nomination for Best Supporting Actor.
He also starred in films like Scarface (1983), Prizzi's Honor (1985), Jagged Edge (1985), and Independence Day (1996). In addition to his work in film, Loggia made numerous appearances on television, both in episodic roles and as a series regular. He appeared in TV shows such as Mancuso, FBI, The Sopranos, and Malcolm in the Middle. Loggia was praised for his versatile acting abilities, seamlessly transitioning between comedic and dramatic roles
7
Christopher Lee (288 acting credits)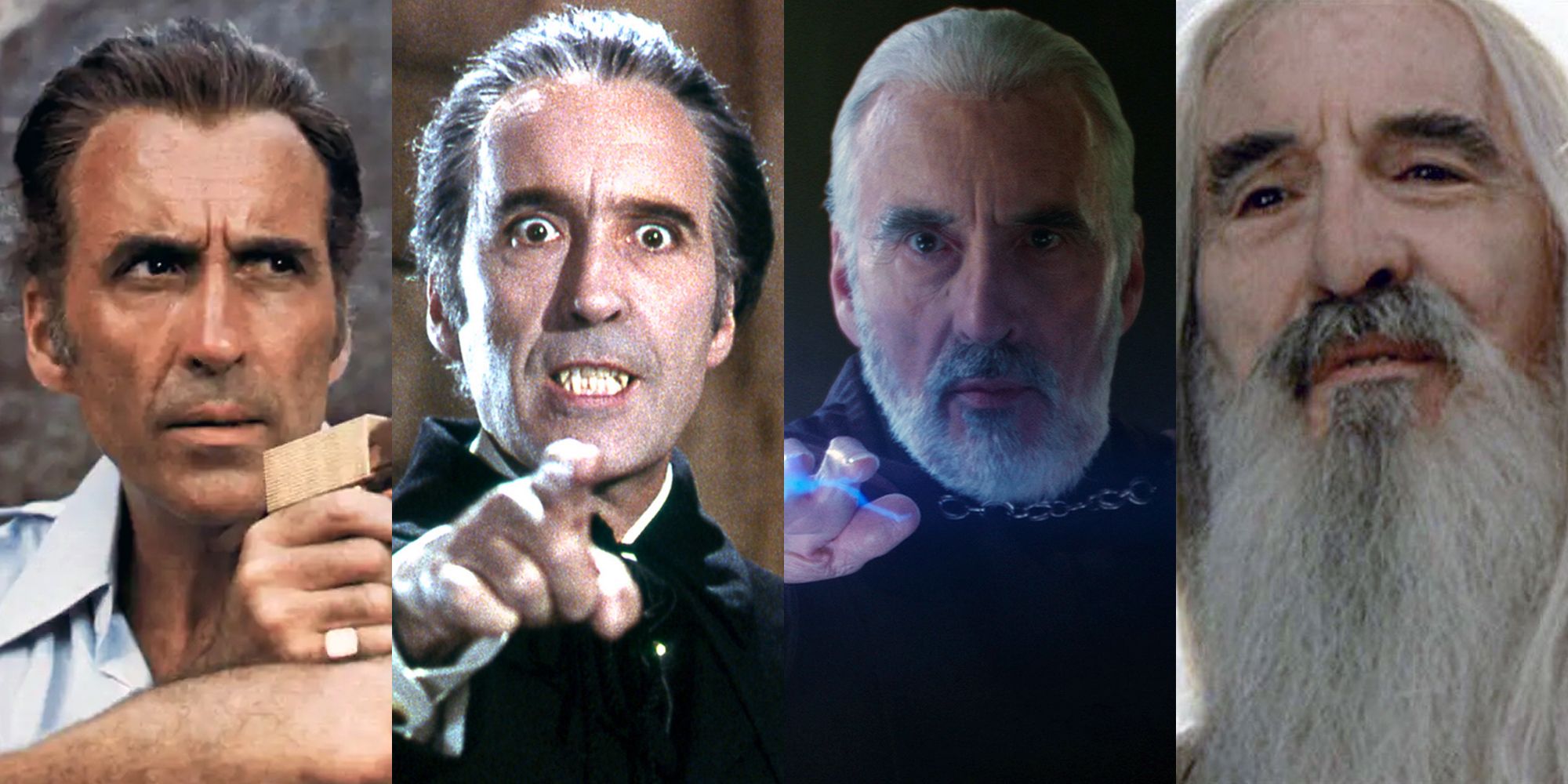 Sir Christopher Lee is renowned for personifying the bloodsucker Dracula on screen, as well as other villains that include Francisco Scaramanga in the Bond film The Man with the Golden Gun (1974) and Count Dooku in Star Wars: Episode II – Attack of the Clones (2002) and Star Wars: Episode III – Revenge of the Sith (2005). Playing the monster in The Curse of Frankenstein (1957) led to one of Lee's most iconic roles as the titular character in Dracula (1958) and its subsequent movie iterations.
The success of these films prompted Lee's move to Hollywood in the '70s, and he hasn't looked back with notable performances in Peter Jackson's The Lord of the Rings and The Hobbit movies and Tim Burton's Charlie and the Chocolate Factory (2005). Lee passed away in 2015 with a massive number of films under his belt, but his legacy lives on as the narrator of the yet-to-be-released TV series The Time War, currently in post-production.
6
Gertrude Astor (350 acting credits)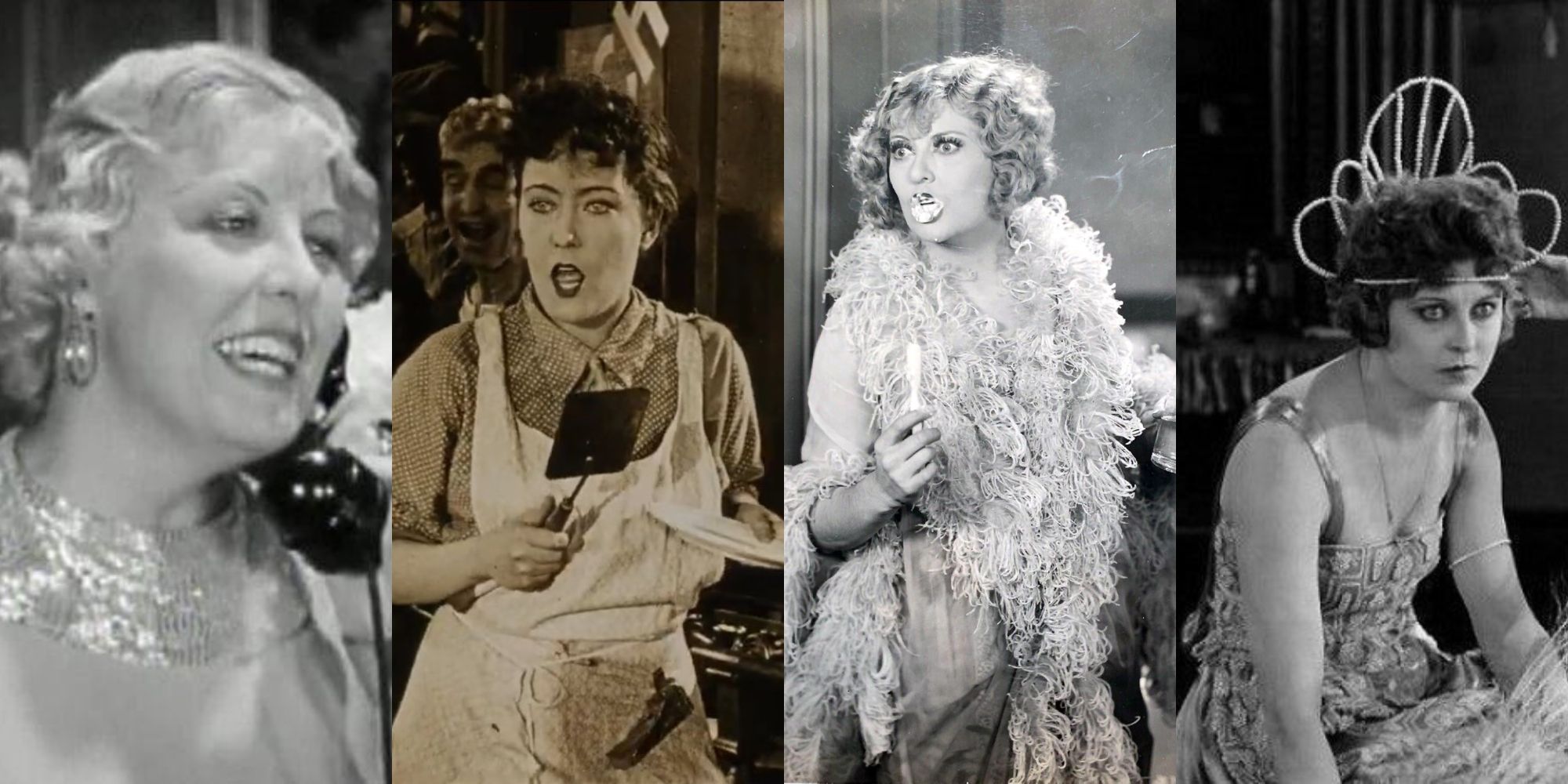 Gertrude Astor was an American actress who appeared in 350 films during the silent and early sound eras. Astor began her acting career in the early 1910s, initially performing in stage productions before transitioning to silent films. She worked extensively for various studios, including Keystone, Universal, and MGM. Although often cast in supporting roles, she became a popular and recognizable face in the burgeoning film industry.
Throughout her career, she acted in notable films such as The Cat and the Canary (1927), The Bat Whispers (1930), and The Man Who Knew Too Much (1934). However, as the sound era progressed, her roles began to diminish, and she primarily appeared in smaller character parts.
5
John Carradine (354 acting credits)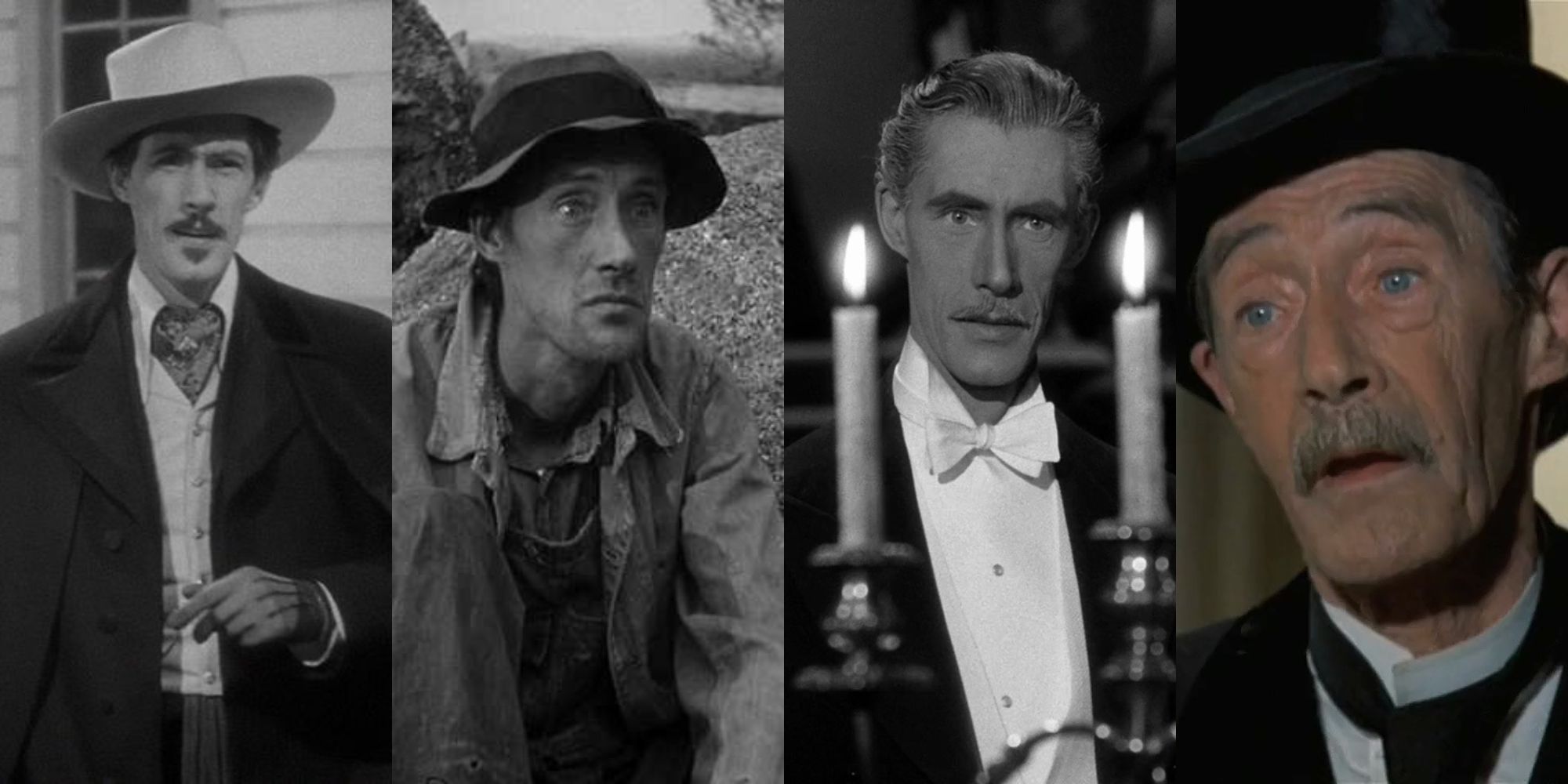 John Carradine was an American actor, known for his versatility and prolific career in film, television, and theater. Carradine's career spanned over six decades, during which he appeared in numerous films, often portraying distinctive and eccentric characters. Carradine was known for his collaborations with acclaimed director John Ford, appearing in films such as Stagecoach (1939) and The Grapes of Wrath (1940).
Throughout his career, Carradine appeared in a variety of genres, including horror films. He became a prominent figure in the horror movie industry, with notable roles in classics such as House of Frankenstein (1944), House of Dracula (1945), and The Black Sleep (1956), among others. Carradine's distinctive deep and resonant voice, along with his tall stature and distinctive features, added to his appeal on screen.
4
Richard Riehle (427 acting credits)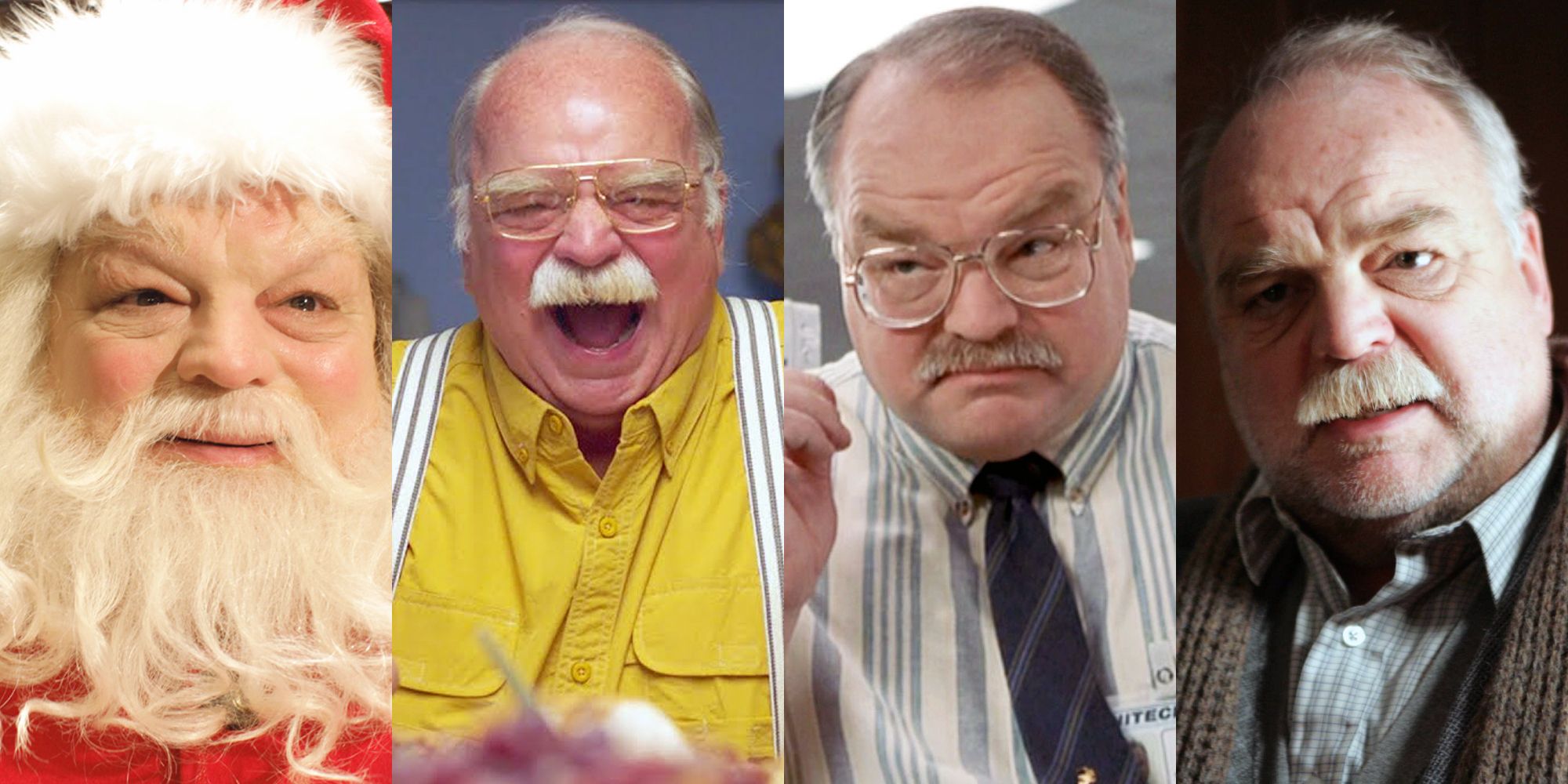 Even if you don't know his name, Richard Riehle is one of those familiar but underrated actors, the result of appearing in so many movies. Riehle became heavily involved in theatre at the University of Notre Dame before studying at the Academy of Dramatic Art in Rochester, Michigan. Riehle's first appearance was as a bartender in the 1977 movie Joyride. With his trademark bushy mustache and large frame, his scene-stealing cameo in Glory (1989) led to his enjoying consistent work in telemovies, TV series, and movies.
Riehle is one of the busiest actors around, with notable performances in Fried Green Tomatoes (1991), Free Willy (1993), Martin Scorsese's Casino (1995), Mike Judge's Office Space (1999), and, more recently, Bad Apples (2018), The Legend of Resurrection Mary (2021) and Moon Manor (2022).
3
Danny Trejo (438 acting credits)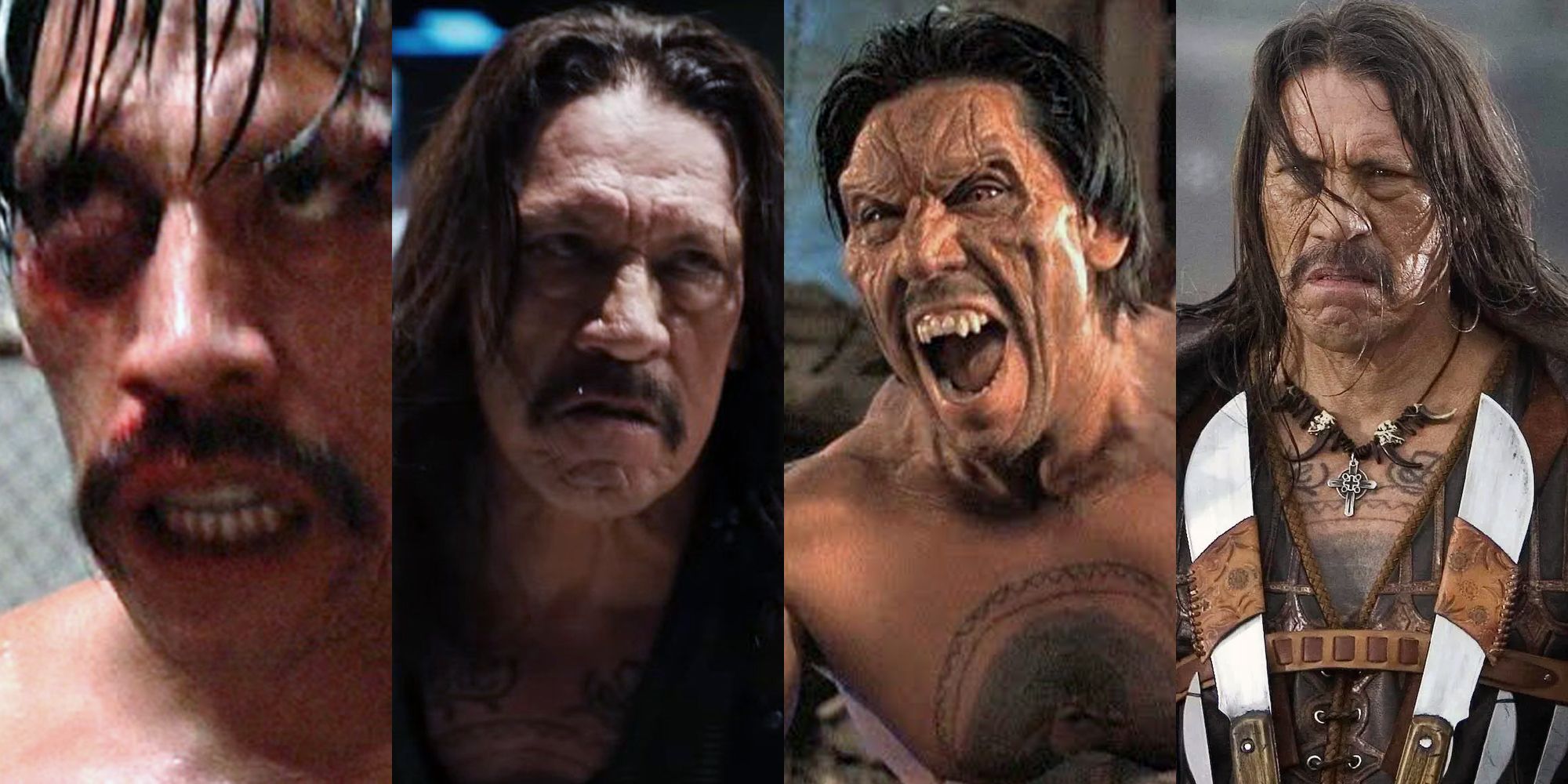 LA-born Mexican actor Danny Trejo spent much of his youth in jail. During his last sentence, he undertook a 12-step rehabilitation program that changed his life and, by introducing another recovering addict, secured him a role in the 1985 film Runaway Train.
Sporting tattoos and a scarred face, Trejo's often cast as a criminal or villain. A favorite of director Robert Rodriguez, he's appeared in nine of his movies, including Desperado (1995), From Dusk Till Dawn (1996), Spy Kids and Spy Kids 2: Island of Lost Dreams, Machete (2010) and Machete Kills (2013).
2
James Hong (456 acting credits)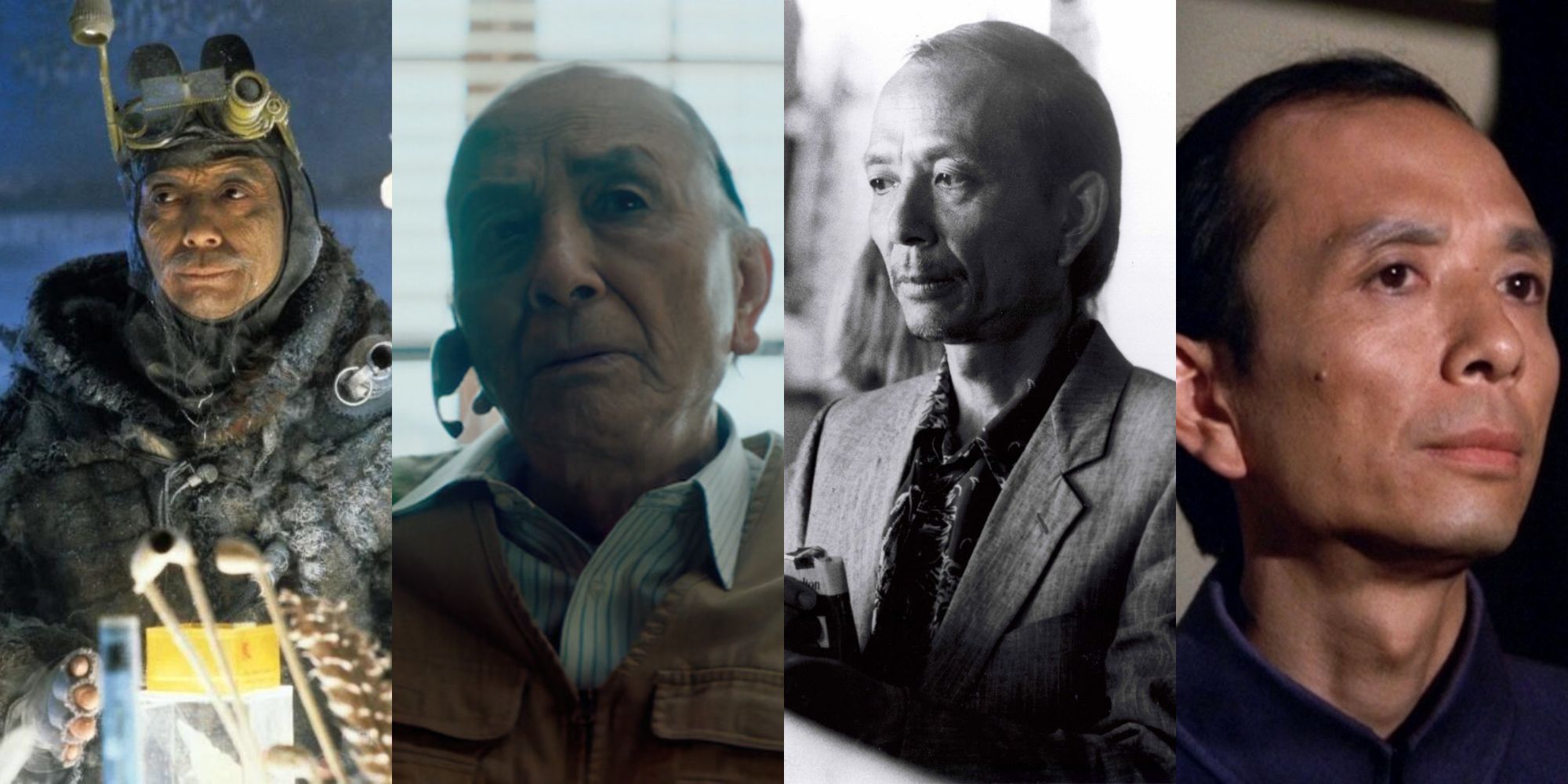 Born in 1929 in Minneapolis, Minnesota, USA, James Hong is an American actor who has worked in several American media projects in a range of roles since the 1950s. Before becoming one of history's most productive actors with 456 acting credits under his belt, Hong attended the University of Minnesota to study civil engineering, but along the road, he developed an interest in acting.
Hong gained his first recognition among viewers after starring in The New Adventures of Charlie Chan, a detective show that aired from 1957 to 1958. He also appeared on other television series such as Hawaii Five-O (1969 – 1974), Bonanza (1960), Perry Mason (1962 – 1963), and The Man from U.N.C.L.E. (1965 – 1966). He has made numerous cinematic appearances in comic and serious roles including China Town (1974), Blade Runner (1982), Big Trouble in Little China (1986), Kung Fu Panda (2008), and most recently, award-winning Everything Everywhere All at Once (2022).
1
Eric Roberts (725 acting credits)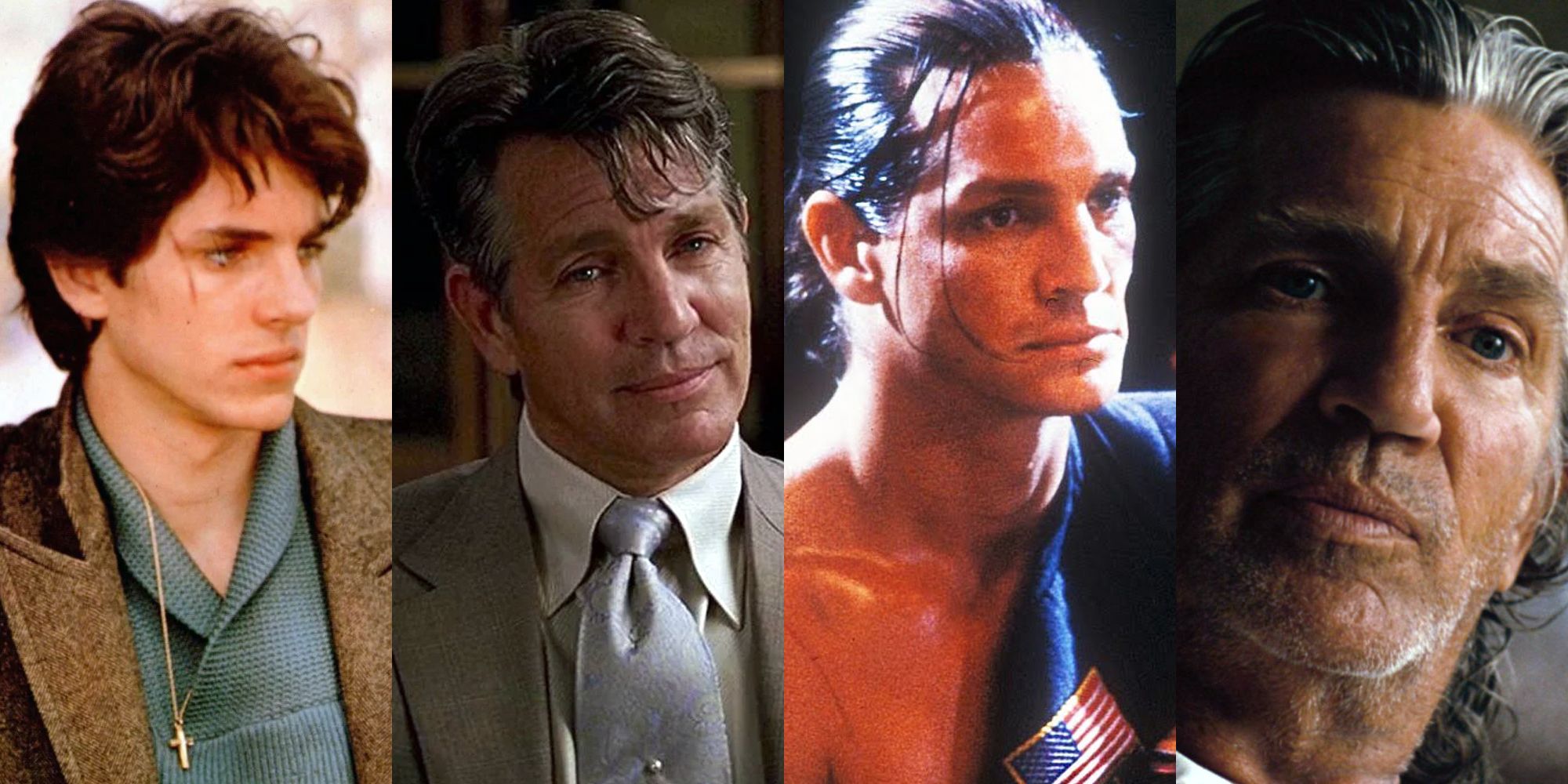 Though somewhat overshadowed by his younger sister, Julia Roberts, and his up-and-comer daughter, Emma Roberts, Eric Roberts easily tops the list as the hardest-working actor in Hollywood, with more than 700 acting credits to his name including over 100 upcoming ones.
Roberts' start in movies was with the role of Dave in King of the Gypsies (1978), and he hasn't drawn breath since then, regularly appearing in multiple films each year. Notable performances include The Dark Knight (2008), Pinkville (2009), Sylvester Stallone-directed The Expendables (2010), Lovelace (2013), and Paul Thomas Anderson's Inherent Vice (2014). While little sister Julia might have more star power, her big brother puts her acting credits – a mere 68 – to shame.
NEXT: Great Supporting Performances by Leading Actors