"All the Light We Cannot See" is a Netflix drama about two young individuals who meet in a besieged French seaside hamlet during WWII.
The series is based on Anthony Doerr's Pulitzer Prize-winning novel of the same name, and it follows Marie-Laure, a French girl who runs a radio broadcast from her uncle's home in Saint-Malo during the German occupation, and Werner, a German soldier who has an interest in radio technology.
Aria Mia Loberti as Marie-Laure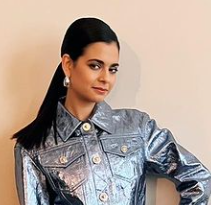 Louis Hofmann as Werner
Louis Hofmann is a German actor. He was born on June 3, 1997, in Bergisch Gladbach, Germany. Hofmann is best known for his roles in film and television, both in Germany and internationally. He gained widespread recognition for his performance in the Netflix series "Dark," a German science fiction thriller, where he played the character Jonas Kahnwald.
Lars Eidinger as Sergeant Major Reinhold von Rumpel
Lars Eidinger is a German actor, born on January 21, 1976, in Berlin, Germany. He is known for his versatile acting career, which spans film, television, and theater. Eidinger is a prominent figure in the German entertainment industry and has earned acclaim for his performances in various roles.
Hugh Laurie as Etienne LeBlanc
Mark Ruffalo as Daniel LeBlanc
Jakob Diehl as Captain Mueller
James Dryden as Monsieur Caron
Corin Silva as Frank Volkheimer
Marion Bailey as Madame Manec
Luna Wedler as Jutta
Nell Sutton as Young Marie-Laure
Andrea Deck as Sandrina
Rosie Hilal as Frau Elena
Bernd Hölscher as Bastian
Elizabeth Dulau as Jacquelne
Rhashan Stone as French Museum Foreman
Sarah Crowden as Jacqueline
Maggie Daniels as Madame Fontineau
All The Light We Cannot See Netflix Release Date
All The Light We Cannot See released on Netflix on 2nd November 2023.
Is All The Light We Cannot See based on a true story?
All the Light We Cannot See is not based on a true narrative, Doerr's novel is historical fiction based on genuine events that occurred in Saint-Malo during the war.
Related