The Big Picture
Ridley Scott's Napoleon film showcases the scale and awe-inspiring battle scenes that highlight the protagonist's climb through the years.
Napoleon faces opposition as he realizes those in authority see him as a mere tool, leading him to desire autonomy and seize the throne of France.
Joaquin Phoenix's nostalgia and desire for another grand production led him to reunite with Ridley Scott for this ambitious project, similar to their successful collaboration on Gladiator.
Following yesterday's new look at Ridley Scott's Napoleon, Empire has unveiled another unseen photograph from the film that sees Joaquin Phoenix's titular character placing the crown of France on the head of Vanessa Kirby's Joséphine de Beauharnais.
The first trailer for the film was released earlier this month, and the scale on show from Scott's long-held passion project was evident to see, as it depicted Phoenix's Napoleon climbing the ranks through the years, and the battle scenes were utterly awe-inspiring. Napoleon saw greatness in himself, believing it was his destiny. However, opposition stands in his way as Napoleon faces the harsh reality that those in authority perceive him merely as a tool, a weapon to be used. Fueled by a desire for autonomy, he resolves to seize control and claim the throne of France as his own.
Initially slated for an exclusive launch on Apple TV+, the film managed to secure a theatrical debut. Apple Studios and Sony Pictures will bring this grand cinematic experience to the big screen — a fitting platform for a film of such epic proportions. Along with October's Killers of the Flower Moon, this move signifies Apple's dedication to embracing the traditional cinema experience alongside its digital streaming platform.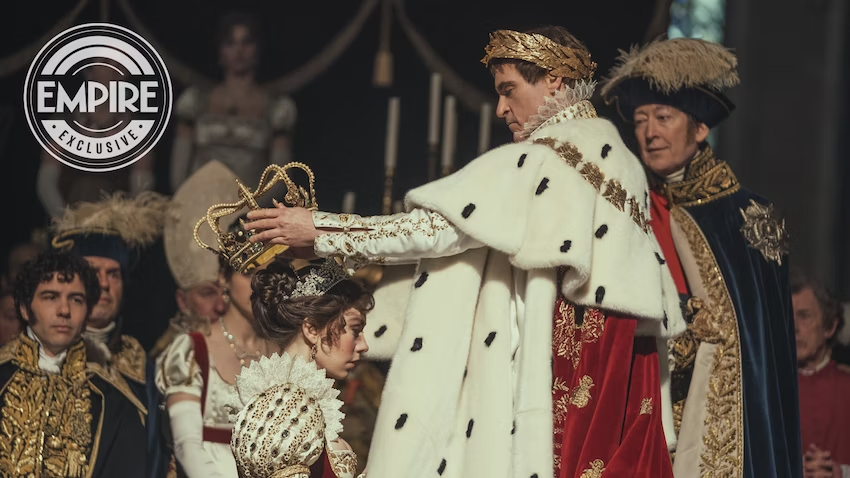 Nostalgia is a Strong Pull
Phoenix told Empire of his joy at reuniting with Scott, admitting that nostalgia was a very strong pull in getting him to agree to the film after the pair had collaborated so successfully on Gladiator more than twenty years ago. Revealing that Scott had previously approached him with film ideas in the intervening period, Phoenix confessed that he was looking for another grand production, an expansive and ambitious project just as their first film together had been.
"The truth is, there was just a very nostalgic idea of working with Ridley again. I had such an incredible experience working with Ridley on Gladiator, and I was so young. It was my first big production. I really yearned for that experience again, or something similar. He's approached me about other things in the past, but nothing that felt like it would be as demanding for both of us. And so I really liked the idea of jumping into something with Ridley that was going to be that."
The film also stars Ben Miles as Napoleon's advisor Caulaincort, Tahar Rahim as politican Paul Barras, Matthew Needham as Napoleon's brother Lucien, Ludivine Sangier as socialite Madame Tallien, Catherine Walker as Marie-Antoinette and more.
Napoleon will open in theaters on November 22nd.